Press Release
Nurses Set Committee to Support Rochelle Pardue-Okimoto, RN for East Bay Assembly Race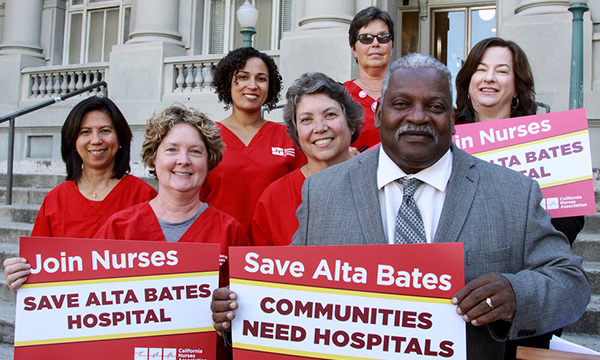 The California Nurses Association (CNA) today filed with the Secretary of State an independent-expenditure committee in support of Rochelle Pardue-Okimoto, RN, a Democratic candidate for the open Assembly District 15 in the north East Bay.
"We are sending an early signal that the California Nurses Association and National Nurses United will be supporting Rochelle to the max in the AD 15 race," said CNA Co-President Malinda Markowitz, RN. "As a registered nurse herself, and an elected public official and longtime community activist, Rochelle understands public policy issues that affect people where they live, and will be a fighter for healthcare-for-all in Sacramento."
"Rochelle, like her union sister Dotty Nygard, RN," a CNA member running for Congress in a nearby Eastern Bay Area district, "has stepped up in her role as a nurse advocate, to heal their communities," Markowitz said.
Pardue-Okimoto, an elected member of the El Cerrito City Council, is a registered nurse with a specialty in Neonatal Intensive Care, and practices at the Alta Bates Summit Medical Center in Berkeley. With the hospital -- Berkeley's only acute-care facility -- threatened with closure, Pardue-Okimoto also has been a leader in the fight to keep it open. She also is an elected delegate from AD 15 to the California Democratic State Central Committee.
Rochelle Pardue-Okimoto, (third from left), with other RN activists and former Assembly member Sandre Swanson, who endorsed Pardue-Okimoto today, in a recent rally to keep open a critical hospital in Berkeley
In addition to filing the independent-expenditure committee, Nurses, Patients and Guaranteed Healthcare Advocates for Pardue-Okimoto in Assembly District 15, CNA seed-funded the committee with an initial $50,000. There are no limits on what such committees can spend on a candidate's behalf, as long is there is no coordination or communication with the candidate or the candidate's campaign.
"The independent activity advocating for Rochelle will start immediately," said Markowitz, "and will continue through the primary election on June 5, 2018. We are all in, and that will become apparent very soon."
Assembly District is currently represented by Democratic Assembly member Tony Thurmond, who is giving up the seat to run for State Superintendent of Public Instruction in 2018.