Press Release
Nurses Say: Guaranteed Health Care Is Fundamental To COVID-19 Response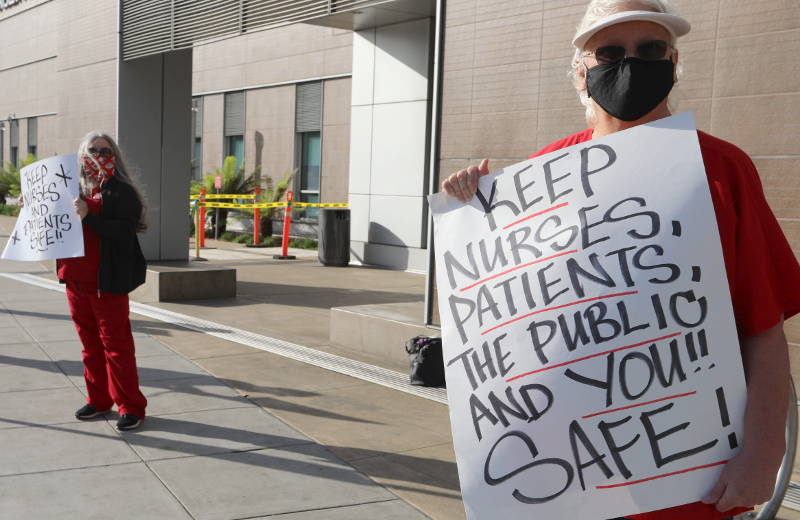 Nurses Union Applauds Introduction of Health Care Emergency Guarantee Act
National Nurses United (NNU), the largest union and professional association of registered nurses in the country, endorsed the Health Care Emergency Guarantee Act, introduced on Friday by U.S. Sen. Bernie Sanders, U.S. Rep. Pramila Jayapal, and U.S. Rep. Karen Bass. The legislation would ensure that every person living the in the United States would receive health care for free at the point of service, without any out-of-pocket costs, during the COVID-19 pandemic.
"Registered nurses are on the front lines of the COVID-19 pandemic, and we know from our experiences at the bedside that people who are uninsured or underinsured are forgoing the health care they need because they can't afford it," said Bonnie Castillo, RN, NNU executive director. "We cannot adequately respond to the COVID-19 crisis unless we guarantee health care to every person living in our country. The Health Care Emergency Guarantee Act would do just this, by ensuring that every patient gets the care they need without out-of-pocket costs during the COVID-19 pandemic. National Nurses United applauds Senator Sanders, Congressmember Jayapal, and Congressmember Bass for introducing this critical legislation, and urges every member of Congress to support this bill." 
The Health Care Emergency Guarantee Act would require the U.S. Department of Health and Human Services (HHS) to pay the costs of health care at Medicare payment rates until a COVID-19 vaccine is widely available to the public. Under this legislation, health care providers would bill HHS directly for the costs of care for people who are uninsured, and for the costs of copays and cost-sharing for people who have insurance. HHS would cover the costs of both COVID-19 care and all other health care.
"The Health Care Emergency Guarantee Act both guarantees health care to every patient who needs it, but also acts as an economic stimulus for working families, by ensuring that people don't have to spend money on health care," said Castillo.