Press Release
Nurses Roll On With Indiana Campaign Visits Friday -- To Join Carrier Protest, Plus Campus Visit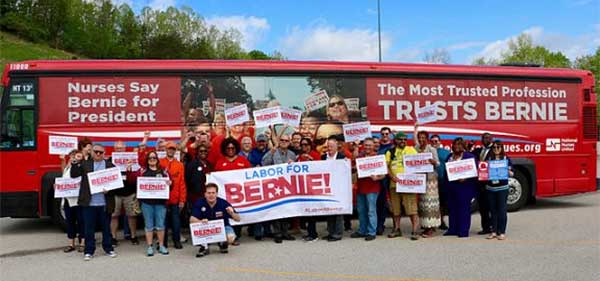 National Nurses United members who have traveled from coast to coast to campaign for Sen. Bernie Sanders, often on a bright red #BernieBus, will make stops in Indiana Friday ahead of the critical Indiana primary Tuesday.
Leading off the visit, nurses will join the United Steelworkers and USW Local Union 1999 for a march and rally at the Indiana State Capitol to protest the decision by Carrier Corporation and its parent company United Technologies to shut down jobs in Indiana and move the work to Mexico.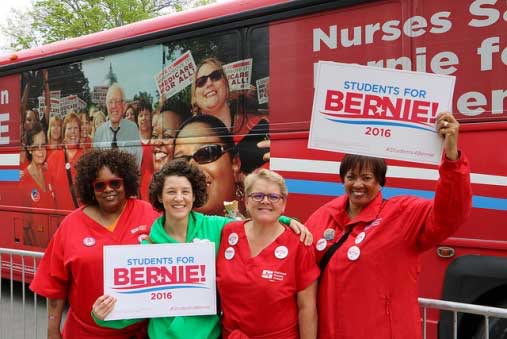 Nurses and the #BernieBus pay a visit to West Virginia University earlier this week
"We stand with the Carrier workers while big corporations like Carrier/United Technologies abandon workers and their families here in pursuit of higher profits abroad," said NNU co-president Jean Ross, RN who will be on hand Friday.
"And, we stand with Bernie Sanders who has made opposition to unfair trade deals that cost millions of American jobs, and his demand for accountability by wealthy corporations one centerpiece of his campaign," Ross said.
Where to meet nurses and the #Bernie Bus, Friday, April 29
Midday - USW 1999 Carrier March and Rally at the Indiana State Capitol
Afternoon - Visit to Indiana-Purdue University
NNU members have been talking to voters since last fall, most recently this week in Pennsylvania, Maryland, West Virginia, and Kentucky about why they support Sen. Sanders.
"We're in it to win it," said Ross, noting nurses have been gearing up for the remainder of the primary campaign season, and are already busy campaigning as well in California, the state with the most delegates, which votes June 7.
Nurses have emphasized Sanders commitment to guaranteed healthcare for all, assuring equal educational opportunity for all by eliminating public college tuition to drive down student debt, raising the minimum wage to $15 an hour and creating millions of good paying jobs by rebuilding the nation's crumbling infrastructure, and broad criminal justice reform, as well as opposition to unfair trade pacts.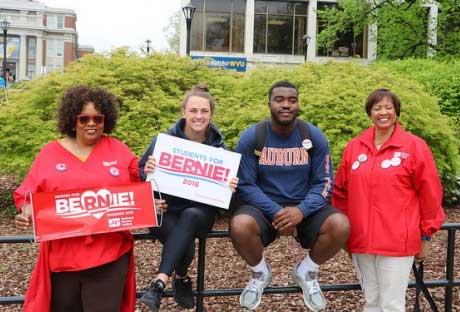 At West Virginia University, Morgantown, WVa