Press Release
Nurses Reach Tentative Agreement at Antelope Valley Hospital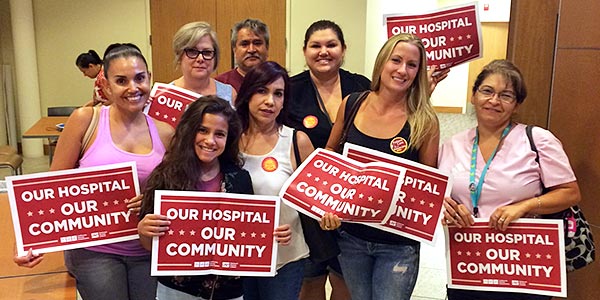 New Pact, a Win for Patients and Community Too, Say RNs
Registered nurses and hospital administrators have reached a significant tentative agreement on a new contract covering nearly 1,000 nurses at Antelope Valley Hospital in Lancaster, Ca., announced the California Nurses Association.
"We are optimistic that this new contract will begin to address the recruitment and retention crisis at AVH," said Kathleen Stalter, RN. "We want new nurses to know that they will be supported if they come here. We want our experienced nurses to know that they are valued and respected."
"This settlement is the culmination of 18-months of solidarity and action. Today, we celebrate, but tomorrow and every day after, the AVH RNs will continue to fight for quality care for our patients and our community." Maria Altamirano, RN.
The agreement comes just days after AVH nurses voted to authorize an unfair labor practice strike and includes significant improvements, including a ten percent wage increase over the three-year term of the agreement. RNs successfully defeated takeaways and preserved contract language guaranteeing critical workplace benefits and nursing practice protections. These are all factors that will enhance the hospitals ability to retain and recruit staff and address the hospital's chronic short-staffing, say nurses.
Nurses will vote on the proposed accord on Thursday, Dec. 8, 2016. The California Nurses Association represents nearly 100,000 registered nurses statewide.