Press Release
Nurses at Providence Saint John's Health Center in Santa Monica Ratify Three-Year Contract with Protections to Improve Patient Safety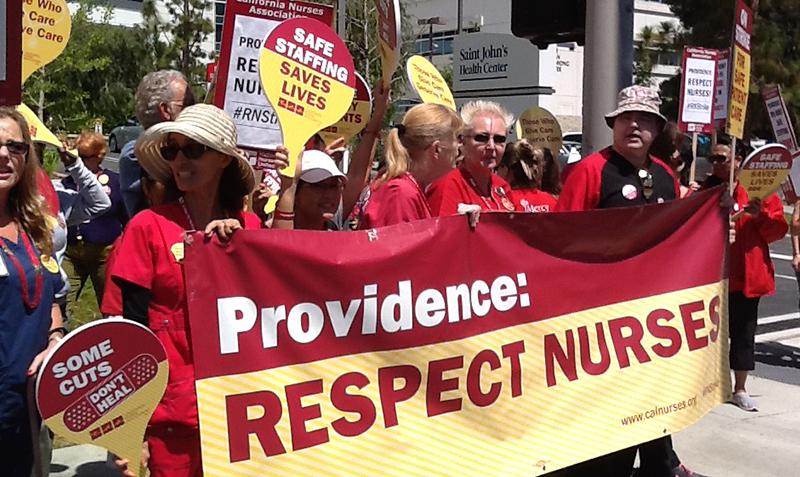 Registered nurses at Providence Saint John's Health Center in Santa Monica overwhelmingly ratified a new three-year contract, announced California Nurses Association (CNA) today. The agreement is the result of a long and protracted fight that included more than a year of bargaining, a one-day strike in November 2018, and a picket.
 
"We've made great improvements in this contract to better protect our patients and staff," said Jack Cline, an RN in the medical surgical unit and member of the bargaining team. "RNs stayed united and did not let management divide us."

Highlights of the contract include:
Workplace violence protections. A Safety and Security Committee of five union-selected RNs will be formed and meet quarterly to address workplace violence and the safety of nurses and patients.
Improved meal and rest break coverage in units.
Economic gains and health benefit protections to help retain and recruit experienced nurses. The new contract includes a minimum of 9 percent increase in pay across the board over the term of the contract, with additional wage step and shift differential increases. The contract retains health benefits and an 8 percent cap on premiums for the duration of the agreement. 
Maintains all standards and benefits of previous contract, with no takeaways.
CNA represents more than 500 nurses at Providence Saint John's Health Center in Santa Monica. CNA has represented Provident Saint John's hospital nurses since 2012.
CNA has 100,000 members and is affiliated with National Nurses United, the largest and fastest growing union and professional association of registered nurses in the United States with more than 150,000 members nationwide. CNA/NNU plays a leadership role in safeguarding the health and safety of RNs and their patients and has won landmark legislation in the areas of staffing, safe patient handling, infectious disease, and workplace violence prevention.