Press Release
Nurses Plan Public Outreach Action in El Paso Urging Tenet-Affiliated Hospitals of Providence, Sierra and Memorial Campuses, to Invest in RN Staff and Patient Care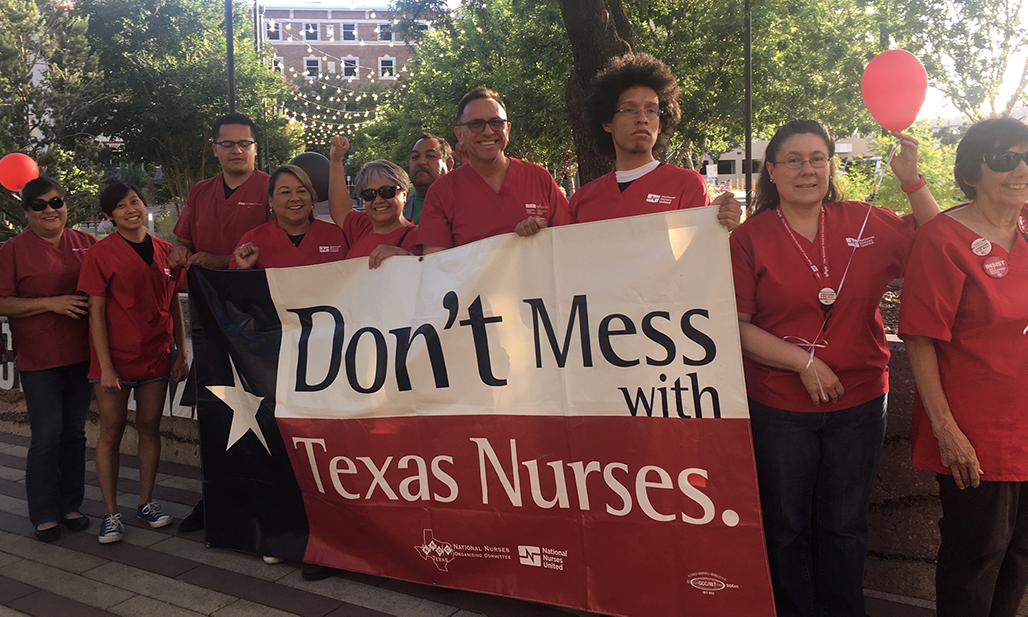 Sept. 20, 6:00 p.m. – 8:00 p.m.
Registered nurses will hold a public outreach action in El Paso urging the Tenet-affiliated Hospitals of Providence, Sierra and Memorial Campuses, to invest in nursing staff. This will improve the recruitment and retention of experienced RNs, and ensure optimal patient care, say nurses.
Over 123,000 people who hold active RN licenses in Texas do not work as nurses, according to the National Nursing Database and the Bureau of Labor Statistics. Some of these RNs are retired or unemployed while others are choosing not to work in the field.
"We believe more Texas nurses with active RN licenses would return to work at the bedside if there were staffing and other working conditions that supported their providing optimal care to patients," said Terra Ciurro, an RN in the ER at Sierra Medical Center.
What: Registered nurses plan outreach action to promote optimal patient care.
When: Friday, Sept. 20, 6:00 p.m. – 8:00 p.m.
Where: Providence Memorial Hospital, 2001 North Oregon, and Sierra Medical Center, 1625 Medical Center Drive, El Paso.
"When the hospital invests in its nursing staff it will strengthen recruitment and retention of nurses," said Patricia Crooks, an RN in the delivery unit at Hospitals of Providence Memorial campus. "This will make it possible to bring staffing into alignment with what research shows is optimal for patient care."
According to well-established research there is a clear link between RN staffing levels and good patient outcomes. For example, research shows that every patient over four assigned to one nurse in a medical/surgical unit, including oncology units, could increase mortality by seven percent per patient.
At the Hospitals of Providence Sierra campus the staffing grid allows for up to six patients in the medical/surgical units. At the Memorial campus the staffing grid allows for five patients per nurse in medical/oncology, including pediatric oncology. Research recommends that when a child is receiving chemotherapy a nurse should be assigned to that child without additional patient assignments. When an RN is administering chemo to a child under a 1:5 ratio, they must divide their attention between the child and four other patients, or ask another nurse on the unit to care for four of their patients, which would bring that nurses' patient load up to nine children.
Research has also shown that the best patient assignment ratio in a progressive care unit (PCU), which is just one step down from the ICU in terms of patient acuity, is one nurse for every three patients. At both the Sierra and Memorial Campuses the staffing grid calls for one nurse for up to five patients in the PCU.
The 800 RNs that work at both hospitals are members of National Nurses Organizing Committee, NNOC/Texas which is affiliated with National Nurses United, the largest and fastest growing union of registered nurses in the United States with 150,000 members. NNU plays a leadership role in safeguarding the health and safety of RNs and their patients and has won landmark legislation in the areas of staffing, safe patient handling, infectious disease and workplace violence prevention.