Press Release
Nurses Plan Picket to Demand No Reduction in Acute Care Hospital Services at St. Vincent Medical Center, Despite Verity Health Systems' Bankruptcy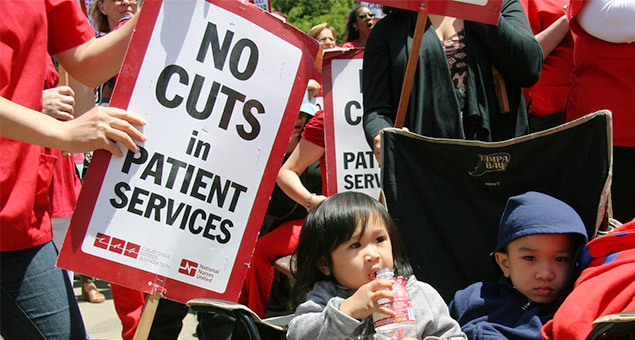 Registered nurses will hold an informational picket and rally at St. Vincent Medical Center, on Friday. Oct. 12, to demand that the facility continue to operate as a full service acute care hospital despite the bankruptcy sale of the owner, Verity Health System.
"Our hospital was founded by the Daughters of Charity in 1856 and as nurses we are proud of our steadfast commitment to fulfilling its mission as a safety-net hospital despite changes in ownership," said Rachelle Agustin, ICU. "We want to make sure that there are no reductions in services or bed closures due to the bankruptcy of Verity Health System and we invite the community to join us in showing their support for our hospital and the important healthcare services it must continue to provide."
What: Nurses Picket to Maintain Full Acute-Care Services at St. Vincent Medical Center
When: Friday, October 12 — 7:30 a.m. – 9 a.m.
Where: St. Vincent Medical Center, 2131 W. 3rd St. Los Angeles, Calif.
St. Vincent is one of six Daughters of Charity facilities bought by Verity Health System in 2015. California Nurses Association represents 1,500 registered nurses working at four of the hospitals, in both Southern and Northern California.
Nurses are calling on the judge overseeing the Verity bankruptcy proceedings to mandate that any future owner or operator of any of the facilities, including St. Vincent, fulfill the same conditions established by the Attorney General in 2015 during the Daughters of Charity transfer. This would require that a new owner pledge to operate St. Vincent as an acute-care hospital, offering emergency services through 2025. The new owner would also commit to honor existing collective bargaining agreements and fulfill all pension obligations to current and future retirees.
"We nurses want to make sure that St. Vincent keeps the promises the hospital made to the workers and the community to provide care to low-income families in the LA area," said Christine Chung, RN, Medical-surgical unit. "We care for low-income families, the homeless, and immigrant community members. Many of our patients would have nowhere to go for care if our hospital closed."
This week nurses also plan pickets at other facilities put at risk by the Verity Healthy System bankruptcy, including O'Connor Hospital in San Jose and St. Louise Regional Hospital in Gilroy. A town hall meeting on the future of Seton Medical Center, the Verity-owned facility in Daly City, is planned on Oct. 10 in San Francisco.
The California Nurses Association has 100,000 members statewide and is affiliated with National Nurses United, the largest and fastest growing union of RNs in the nation. CNA/NNU has won landmark health and safety protections for nurses and patients in the areas of staffing, safe patient handling, infectious disease and workplace violence protection.