Press Release
Nurses Opposes Trump Administration Deportation Threats Against Salvadorans, other Immigrants Living in the U.S.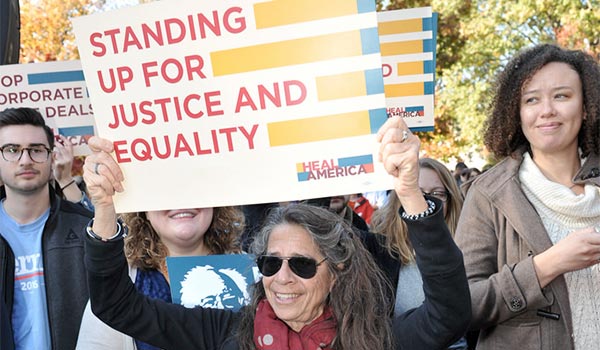 In the wake of the Trump Administration decision this week to end the temporary protected status for over 200,000 Salvadorans living in the U.S., National Nurses United said today that it opposes the administration's threats of deportation of an expanding list of Mexican, Central American and Caribbean immigrants in the U.S.
In addition to the rescission of Temporary Protected Status (TPS) for Salvadorans, many of whom came to the U.S. fleeing life threatening violence at home, the Trump Administration has also targeted Haitians, Hondurans, Nicaraguans, Guatemalans, and Mexicans, including those who came here as young children, with deportation.
"These threats demonstrate a disturbing lack of humanitarian sympathy for so many people and families who endured enormous hardship and risk to come to this country, to seek a haven from violence, extreme poverty or persecution," said NNU Co-President Deborah Burger, RN. "For many, deportation could amount to a death sentence, as well as tearing apart families, including those with U.S. born children."
"Today, hundreds of thousands of law-abiding families are now forced again to live in fear of arrest and deportation to dangerous conditions at home due to these threats. Nurses and other medical professionals see the impact with people who are in fear of getting needed healthcare, even emergency care, at long term risk to their health and to their family members and community," Burger said.
TPS was granted to Salvadoran nationals in 2001, following devastating earthquakes in El Salvador. Despite efforts on the part of the Salvadoran government, the international mining industry, crumbling public infrastructure, and the rise of gangs have resulted in deteriorating public health and humanitarian conditions.
If a nation is unable to handle the return of its nationals, TPS still applies to that country. "Deporting these people – our neighbors, colleagues and friends – is unconscionable," Burger said.
The pronouncement on Salvadorans, following the revocation of TPS to Haitians and Nicaraguans, and threats to revoke TPS for Hondurans, also facing widespread violence, coincides with the ticking clock for some 800,000 young people covered by the Deferred Action for Childhood Arrivals (DACA) program.
Despite current talks in Washington, after the Trump Administration terminated the DACA program established by the Obama Administration, the future for DACA recipients remains highly uncertain. "These young people should not be held hostage to other negotiations about the border or budget, they deserve to be treated with humanity and respect."
Burger repeated NNU's support for DACA recipients most of whom have lived in the U.S, nearly their entire their lives and now face deportation. "These young people should not be held hostage to other negotiations about the border or budget, they deserve to be treated with humanity and respect."
NNU's largest affiliate, the California Nurses Association/National Nurses Organizing/ Committee/NNU passed a resolution at its convention in September condemning deportation threats, citing the broad health implications for immigrants, their families, and communities, and the "valuable contributions immigrants make to the U.S. economy, culture, and society as a whole."
CNA/NNOC also called on the U.S. to "enact comprehensive immigration reform" including amnesty for immigrants "already residing in the U.S." that "streamlines the path to citizenship."