Press Release
Nurses at Little Company of Mary Hospital in San Pedro Ratify Four-Year Contract with Protections to Improve Patient Safety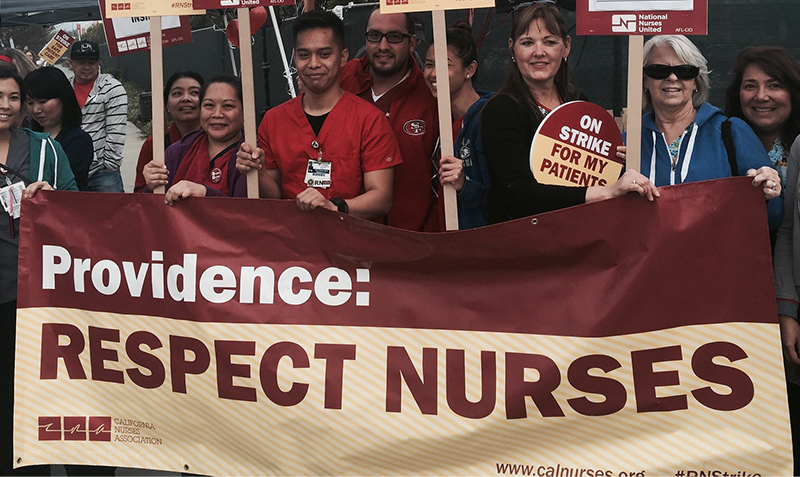 Registered nurses at Providence Little Company of Mary Medical Center San Pedro overwhelmingly ratified a new four-year contract, announced California Nurses Association (CNA) today.
"We are very proud of this accomplishment in achieving a union contract that sets the standards high for patient care, wages and benefits," said Julie Cullen, RN and chief nurse representative. "The unity of the San Pedro nurses is a testament to the dedication and advocacy to their community. With this new agreement we hope that recruitment and retention will help us in providing the best care San Pedro nurses always provide every day."
Highlights of the contract include:
Supporting safe staffing for safe patient care. For the first time, nurses won floating clusters to ensure that safe staffing by competency is always maintained. (Floating is a management practice where nurses are reassigned to units of the hospital where they do not normally work.) In addition, a newly created Specialty Float Pool will add additional critical care RN positions and language that protects nurses from the management practice of using floating as a means of staffing. 
Workplace violence protections. A Safety and Security Committee of five union-selected RNs will be formed and meet quarterly to address workplace violence and the safety of nurses and patients.
Improved meal and rest breaks, including a rest period for the first time between shifts.
Provisions to let RNs take two weeks' unpaid leave to volunteer with the Registered Nurse Response Network (RNRN), which sends nurses to disaster-stricken areas.
Economic gains and health benefit protections to help retain and recruit experienced nurses. The new contract includes across the board pay increases of 13.5 percent over the term of the contract, with additional wage step and shift differential increases. The contract retains health benefits and a reduction in healthcare premiums for the duration of the agreement.
Maintains all standards and benefits of previous contract, with no takeaways. 
CNA represents 330 nurses at Providence Little Company of Mary Medical Center San Pedro. CNA has represented Little Company of Mary nurses since 2003.
CNA has 100,000 members and is affiliated with National Nurses United, the largest and fastest growing union and professional association of registered nurses in the United States with more than 150,000 members nationwide. CNA/NNU plays a leadership role in safeguarding the health and safety of RNs and their patients and has won landmark legislation in the areas of staffing, safe patient handling, infectious disease, and workplace violence prevention.