Press Release
Nurses Launch National #BernieBus Tour in Nevada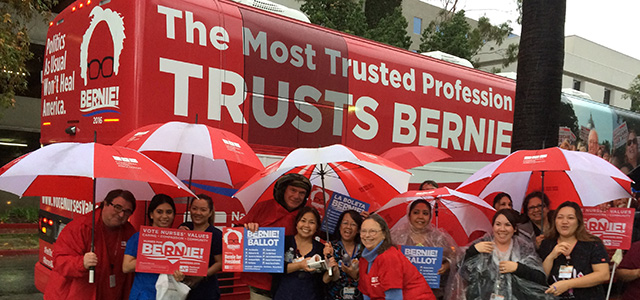 Bringing Nurses to Meet with Voters, Local Activists

'The Most Trusted Profession Trusts Bernie'. If voters in the early primary states have not yet seen that message now posted on select billboards in states like Nevada and Iowa, they'll soon be able to see it rolling by on wheels.

First stops are in Las Vegas, outside a rally at the Tropicana Las Vegas featuring Sen. Bernie Sanders just prior to a major Nevada Democratic dinner at the MGM Grand.

Sponsored by National Nurses United, the #BernieBus tour will bring nurses to meet with voters, community groups, students, and other supporters.  
What: Nurses' #BernieBus National Launch
When: Wednesday, January 6th
Location 1: Tropicana Las Vegas, 3801 S Las Vegas Blvd., outside Future to Believe in Rally, 4 p.m.
Location 2: MGM Grand Conference Center, 3799 S Las Vegas Blvd., outside Battle Born, Battleground First in West Dinner, 5 p.m.-5:30 p.m.

"Bernie Sanders best represents nurses' values of caring, compassion and community," said NNU Co-President Deborah Burger, RN, who will be on the bus in Las Vegas joined by Nevada RNs.

"The 440,000 people who have attended Bernie's rallies and the record number of individual donors demonstrate that Bernie is building a broad campaign of supporters ready for the fundamental reform we need to heal America. That's the message we'll carry across America on the #BernieBus," Burger said.