Press Release
Nurses, Labor & Faith Leaders Renew Call on Mayor to Invoke Emergency Power to Keep Providence Hospital Open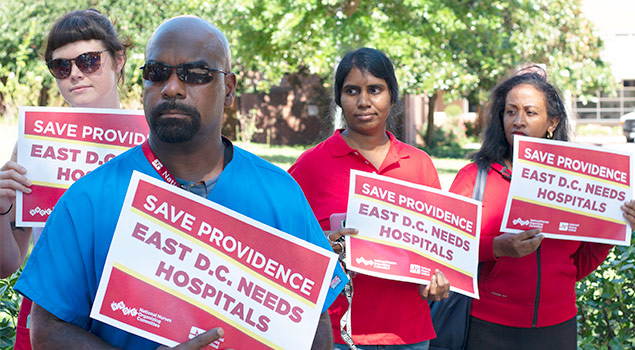 Registered nurses and caregivers, along with community, faith and labor leaders, are renewing their call for Mayor Muriel Bowser to invoke the emergency legislation to keep Providence Hospital open as a fully functioning hospital with acute-care services.
The call follows Friday's D.C. Council's Committee on Health hearing in which Ascension executive Keith Vander Kolk testified Ascension intends to close Providence Hospital, including its acute-care services and emergency room, by December 14. Providence Hospital is owned by St. Louis based Ascension, the largest Catholic non-profit health system in the country.
"It is clear that Ascension does not care about the health and well-being of the people of D.C.," said Elissa Curry, a registered nurse at Providence Hospital. "We are thankful the D.C. Council voted unanimously to approve legislation giving the Mayor the power to prevent the hospital closure, and we are pleased the Mayor signed that legislation. Now we need Mayor Bowser to step up and protect the residents of D.C. and use that emergency legislation to keep Providence open."
Late Thursday evening, Mayor Bowser signed legislation requiring any private acute-care hospital in D.C., such as Providence, to give notice to the State Health Planning and Development Agency (SHPDA) at least six months prior to any proposed closing and to get approval from SHPDA before closing those services.
During Friday's hearing, Herbert Harris, Jr. from the Brotherhood of Locomotive Engineers and Trainmen, noted the important role Providence Hospital plays in providing emergency care to the area. He pointed out there are 70 miles of passenger and freight rail in D.C. and spoke of the critical aid Providence medical teams provided during the 2009 train accident that claimed the lives of six people and sent dozens of others to area hospitals.
"A natural disaster, act of terrorism or major local emergency resulting in 80 or more medical admissions stretches our current medical system beyond its capacity," said Harris. "This reality and limited hospital beds will further exacerbate with the closing of Providence Hospital. Corporate prerogative or profit should never be allowed to dictate public health or safety."
"I am here because I am afraid that people may get the impression that when we Catholics say 'Pro-Life' that we are not including black and brown babies and mothers or lower income families in our definition of life worth defending," said Fr. Patrick Smith of St. Augustine Catholic Church. "I am afraid that when we as Catholics repeat the truth that "The Lord hears the cry of the poor" (Psalm 34), that that truth may fall on deaf ears if we close one of the only two hospitals on the east side of the District knowing that all but one of the seven other hospitals are concentrated in the wealthiest neighborhoods of the city."
Providence hospital serves many low-income, poor, and elderly people with more than 80 percent of its patients receiving Medicaid or Medicare.
Ascension posted $1.6 billion in profits in the first three quarters of this year.