Press Release
Nurses, Labor and Faith Leaders Demand State Health Agency Keep Providence Hospital Open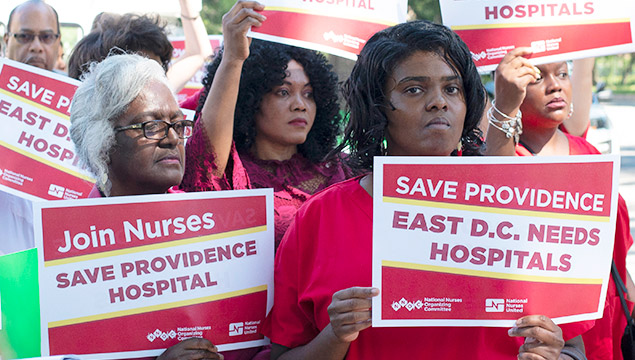 -- FRIDAY: Emergency Hearing --
November 16, 10 a.m.
Registered nurses and caregivers, along with community, faith and labor leaders, will provide testimony to the D.C. State Health Planning and Development Agency (SHPDA) on the detrimental effects closing Providence Hospital will have on East D.C. communities. Due to a broad community campaign and action by both the D.C. Council and Mayor Muriel Bowser, SHPDA now has the power to approve or disapprove of the closure of any acute-care hospital in D.C.
Ascension, the world's largest Catholic health care provider, has said it intends to close Providence Hospital, including its emergency room and all other acute-care services, by December 14.
"If Providence closes, it will leave East D.C. as a virtual health care desert," says Rose Farhoudi, a registered nurse at Providence Hospital. "The D.C. Council and Mayor Browser approved legislation that gives the state health agency the power to approve or disapprove the closure of a hospital. We call on the D.C. State Health Planning and Development Agency (SHPDA) to keep Providence Hospital open for the sake of all our patients."
"We are in a crisis situation now. The clock is ticking and we need SHPDA and the mayor to step up and demand Ascension keeps Providence Hospital open," said Audrey Mitchell, an operating room registered nurse at Providence. "Providence serves the care needs of vulnerable patients: seniors, recipients of Medicare, Medicaid and other public assistance, and veterans. For our patient communities, losing Providence will make access and affordability insurmountable obstacles."
What: Emergency Hearing on the Future of Providence Hospital
When: Friday, November 16 at 10 a.m.
Where: 899 North Capitol Street, N.E., Sixth Floor, Conference Room 6002 Washington, D.C.
Providence Hospital's Pope Francis Emergency Care Center (emergency room) has seen a nearly 26 percent rise in visits in recent years. According to the most recent information available, there were 142,000 visits to the emergency room from 2014 through 2016.
During an October hearing before D.C. council members, the heads of several D.C. hospitals said they would be overwhelmed should Providence close. The president of MedStar Washington Hospital Center, Dr. Greg Argyros, called on D.C. officials to keep Providence open until at least the summer of 2019. Dr. Argyros said MedStar Washington's emergency department has seen a jump in visits since Providence announced its planned closure and he noted "it's hard to imagine we could absorb much more."
Providence hospital serves many low-income, poor, and elderly people with more than 80 percent of its patients receiving Medicaid or Medicare. 
Ascension posted $1.6 billion in profits in the first three quarters of this year.