Press Release
Nurses at Jackson Park Hospital in Chicago Reach Tentative Agreement on Three-Year Contract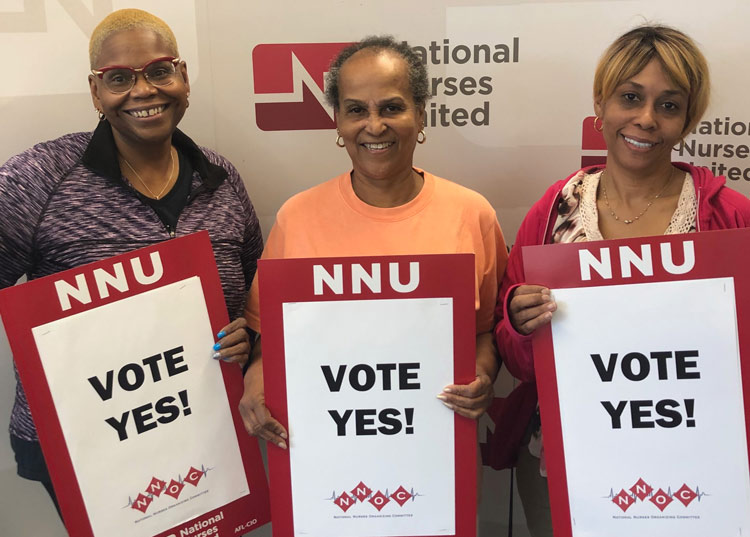 Registered nurses at Jackson Park Hospital in Chicago, Ill. have reached a tentative agreement on a new three-year collective bargaining contract with the hospital, announced National Nurses United Organizing Committee/National Nurses United(NNOC/NNU) today. Nurses say a key element of the contract is a provision that will help enforce agreed-upon safe staffing levels to ensure the highest quality of patient care.
"In this contract, we won the ability to hold management accountable with regard to safe staffing," said Yulonda Clark, a registered nurse in the emergency department. "We can bring our disputes before a neutral arbitrator who can compel management to comply with our contract's staffing language. This is a huge victory for our patients."
Another key prevision in the contract centers on improving weekend staffing by instituting a program that will allow nurses tochoose to work every weekend at a premium rate, instead of requiring all nurses to rotate the weekend shifts.
"In order to improve staffing over the weekend, we created a weekend option program," said Tracy Allen, RN. "Nurses who want to consistently work weekends will receive a significant differential for these shifts. This will help safely balance the schedule and allow weekday RNs to work fewer weekend shifts."
The negotiating team was also able to beat back a management proposal that would have forced nurses to work in units for which they did not have the experience or expertise.  
The contract also includes economic gains, with wage increases from 8.2 percent to 18.56 percent over the life of the contract,which help in the recruitment and retention of experienced nurses.  
"During the life of this contract, we won substantial economic improvements, including additional vacation time, increased differentials, and raises that will make our wages very competitive in this area," said Theresa Ivery, a registered nurse in the behavioral health unit.
The nurses are scheduled to vote on the tentative agreement Monday, Aug. 12. 
NNOC/NNU represents 120 nurses at Jackson Park Hospital. The nurses at Jackson Park Hospital voted to join the union in 2012.