Press Release
Nurses at Holy Cross Hospital in Silver Spring Celebrate Reinstatement of RN Fired Unjustly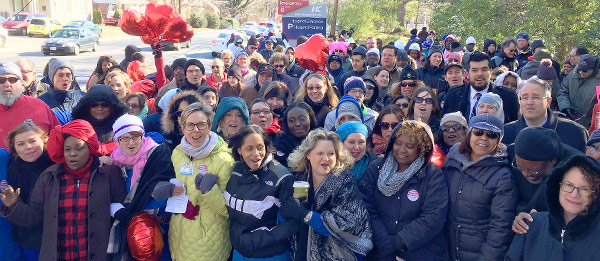 Welcome Back Rally Monday - June 19, 6 p.m.
Registered nurses at Holy Cross Hospital in Silver Spring plan a rally Monday, June 19, to welcome back oncology RN, Edith Saffa, who was fired in April for her patient advocacy and support of the union organizing effort at the hospital. According to terms of the settlement agreement, Saffa will be reinstated with full back pay and accrued PTO.
For over a year hospital management has been unwilling to address the RNs patient care concerns, particularly chronic short staffing. Staffing deficiencies erode the quality of patient care and hamper the hospital's ability to recruit and retain experienced RNs, say nurses.
"I'm excited to get back to work and will continue speaking up for improved conditions so that my patients get the quality care they deserve," said Edith Saffa, who has worked at Holy Cross for 13 years. "I'm standing strong because I have the support of my colleagues and National Nurses United. I feel confident that we'll persevere in our efforts to strengthen our patient advocacy by forming a union here. My reinstatement shows we have rights that protect us so that we can gain collective bargaining rights."
What: Nurses welcome back rally celebrating reinstatement of RN fired for her patient and union advocacy
When: Monday -- June 19th 6 p.m.
Where: Outside Holy Cross Hospital at 1500 Forest Glen Road, Silver Spring
"With Edith's return we've been vindicated. As registered nurses it is our professional responsibility to advocate for our patients and it is our legal right to strengthen our advocacy through collective bargaining," said Marianne Wysong RN, Mother-Baby Unit. "It's time for Holy Cross to stop harassing RNs and start focusing on the patient care concerns we've raised."
In February the National Labor Relations Board issued a consolidated complaint against Holy Cross Hospital on multiple charges filed on behalf of nurses working there. The violations of the National Labor Relations Act include: restraining and coercing its employees, spying on or creating the impression of spying on employees in their protected concerted activity; and interrogating employees about their union support.
The Holy Cross RNs have received wide community support in their efforts to raise their collective voices to improve patient care at the hospital. Numerous members of the Maryland General Assembly, representing three-quarters of the Montgomery County legislative delegation, wrote Holy Cross Hospital to express appreciation and respect for the hard work of the nurses as both caregivers and patient advocates, and to urge management to "respect the rights of the registered nurses to organize" and decide whether or not to affiliate with the union "free from interference, harassment or intimidation."
Holy Cross Hospital, the eighth largest employer in Montgomery County, Md., is owned by, Trinity Health, one of the largest Catholic hospital corporations in the United States. In fiscal year 2016, Trinity reported revenues of $16.3 billion and profits of $89.8 million. Total assets were $23.4 billion. By way of comparison, if Trinity Health was included in The Fortune 500 (which ranks for-profit corporations by asset size), it would rank 119th, just behind Time Warner, Halliburton and Northrup Grumman.
National Nurses United is the largest and fastest growing union of registered nurses in the US with more than 150,000 members nationwide.  NNU plays a leadership role in safeguarding the health and safety of RNs and their patients and has won landmark legislation in the areas of staffing, safe patient handling, infectious disease and workplace violence prevention.