Press Release
Nurses to Hold Rally at St. Bernardine Medical Center on Patient Safety and PPE Issues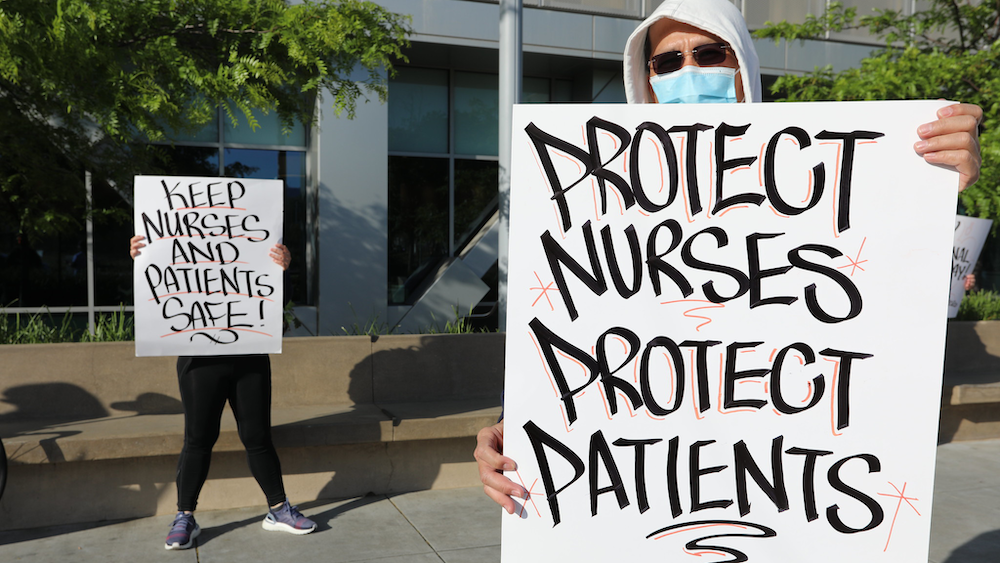 Registered nurses at Dignity Health St. Bernardine Medical Center in San Bernardino, Calif. will hold a rally on Thursday, June 25 to address patient safety issues and to describe the current conditions inside the facility, announced California Nurses Association/National Nurses United.
Nurses are deeply concerned over the lack of personal protective equipment (PPE) and the dangerous practice of reusing PPE, which each affect safe patient care.
"We are members of the community who are committed to providing the best care possible for all their family members, friends, and neighbors who seek care at Dignity Health St. Bernardine's Medical Center," said Erica Ashley, ICU RN. "But we are not able to do that without the proper PPE and safe staffing.
Who: St. Bernardine registered nurses
What: Rally about patient safety issues and dire PPE situation
When: Thursday, June 25, 6 a.m.–8 a.m. PT
Where: Dignity Health St. Bernardine Medical Center, San Bernardino, Calif. – on the corner of Waterman and 21s
Nurses are currently being instructed by hospital management to wear the same PPE during an entire shift. PPE is designed for single use only. Prior to the pandemic, if a nurse reused PPE, that nurse would likely have faced disciplinary action. The hospital's decision to ration PPE and implement unsafe PPE protocols not only leaves nurses vulnerable to COVID-19 exposure and infection, it also increases the risk that patients could potentially be exposed and infected.
In addition to the PPE situation, there is an ongoing problem of short staffing throughout the hospital. Short staffing leads to delays in patient care and an increase in workplace violence threats. Studies show that exhausted and stressed nurses are more likely to make errors on the job than nurses who are working in well-staffed and supportive environments.