Press Release
Nurses to Hold Juneteenth Actions to Protest Lack of Police Accountability and Demand Justice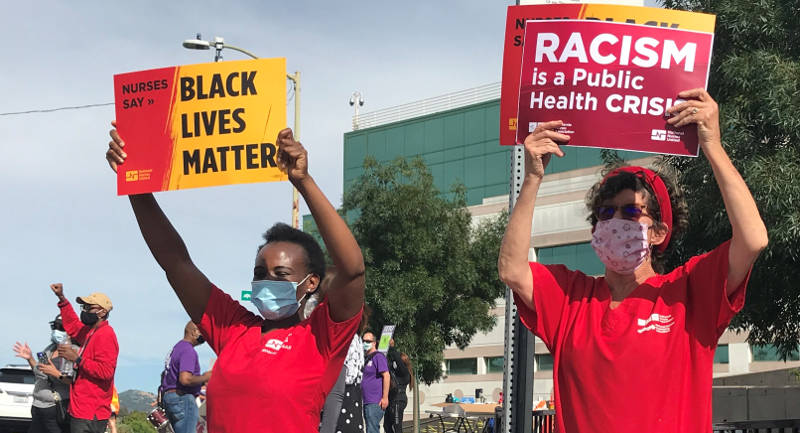 Kaiser nurses and frontline health care workers will hold Juneteenth actions in Northern and Southern California to peacefully protest the lack of police accountability and demand justice for local communities and an end to systemic racism, which is at the heart of much of the current crisis, announced California Nurses Association/National Nurses United, (CNA/NNU) today.
Juneteenth, June 19, is the date in 1865 when Black slaves in Texas first learned of their emancipation – two-and-a-half years after the Emancipation Proclamation. On this historic date, nurses will demand that Black Lives Matter.
In the wake of George Floyd's murder, RNs say, now is the time to refocus on ways to address ongoing, systemic racial injustice and strengthen nurses' commitment to the cause of racial equity and social justice.
Actions with local staff contact, all times Pacific.
Juneteenth Black Lives Matter Actions, Friday, June 19:
Kaiser Oakland, 3600 Broadway Ave, Oakland, 4:00 p.m.
Media Contact: Ben Sizemore (415) 994-4536
Kaiser Santa Clara, 700 Lawrence Expressway, Santa Clara, 7:30 a.m.
Media Contact: Diego Valdez (408) 476-1493
Kaiser Los Angeles Medical Center, 4867 W. Sunset Blvd. Los Angeles, 8:30 a.m.
Media Contact: Jed Smith (818) 636-2841
Kaiser Roseville, Crosswalks of the intersection of Douglas Blvd & Rocky Ridge in Roseville, 3:30 p.m.-5:30 p.m.;
Media Contact: Maryanne Henke (916) 869-5517
Kaiser San Francisco, 2425 Geary Boulevard, San Francisco (in front of the hospital), 3:30 p.m.-4 p.m.;
Media Contact: Gus Feldman (510) 206-0251
"We stand with the movement for Black Lives Matter in the struggle for racial justice" said Bonnie Castillo, RN, executive director CNA/NNU. "Police brutality in Black communities must cease immediately. Nurses are committed to challenging the systemic racism that is endemic in our country."
"Being an African American, it's important for me to speak out," said Jewell Jordan, RN at Kaiser Oakland and one of the organizers of the Juneteenth action. "How can you not speak out especially with what's going on? It's past time for others to speak out about racism. We have lots of work to do, but nurses are a strong group of people and we have a chance to participate in really changing some things."
"As nurses we take care of and value people," said Sarah Johnson, RN in the ED at Kaiser Santa Clara. "Inequality, violence, disparities, and prevention of joy in living run contrary to the heart of the nurse. We are compelled to care for humanity. And so we stand up and speak out together. We stand with Black Lives Matter to end police violence."
"I am an Asian American woman and nurse and I have experienced prejudice and racism," said Thuy Harris, RN at Kaiser Roseville. "I am in support of Black Lives Matter. We need to do what is right even when it is not easy. Now is not the time to remain silent. Let's all stand in solidarity because there's only one race - the human race. Now is the time!"
"By the nature of our work, nurses uniquely bear witness to the devastating and continued health consequences resulting from centuries of deeply ingrained systems of oppression, including racism," said Rebecca Goldfader, NP, Kaiser San Francisco. "As a profession centered in the value of care, nurses stand strong and united against police repression and racial injustice."
"Institutionalized racism negatively impacts every aspect of how Black people can obtain housing, a job, education, healthcare," said Juli Carter, RN, Kaiser South San Francisco. "Nurses understand this and that if we want healthy communities, we must dismantle white supremacy and systemic racism."
"Nurses have a duty to speak out against racism," said Tinny Abogado, RN, Kaiser Los Angeles Medical Center. "Now, more than ever, we need to raise our voices high and loud to oppose the idea that some lives are of less importance than others. Now is the time for change. Now is the time to come together."