Press Release
Nurses to Hold an Informational Picket at Saint Louis University Hospital to Highlight Patient Safety Concerns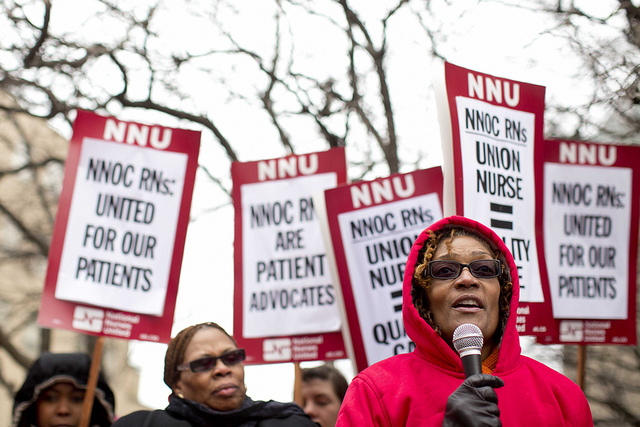 Registered nurses at Saint Louis University Hospital (SLUH) will hold an informational picket on Monday, Sept. 9, to make the public aware of their patient safety concerns, National Nurses Organizing Committee/National Nurses United (NNOC/NNU) announced today. Nurses say short staffing of both nurses and ancillary staff puts patient care at risk, contributes to a high-turnover rate, and makes it difficult to recruit and retain experienced nurses.
"Patients at SLUH are some of the most vulnerable, marginalized, and underserved in the St. Louis area and they deserve quality care from well-staffed units," said Kellie Allen, a registered nurse on the medical surgical unit. "It is deeply disturbing that management has shown itself unwilling to adopt staffing standards that haven been proven to save lives."
What: RNs to hold informational picket and rally
Where: Saint Louis University Hospital, corner of Vista and Grand, St. Louis, Mo.
When: Monday, Sept. 9, 2019 7:30 a.m. to 9:30 a.m.
           Rally 8:30 a.m.
Short Staffing Puts Patient Care at Risk
SLUH is owned by the nonprofit Catholic SSM Health hospital system. As a Catholic institution, the hospital is bound by the ethical directives outlined by the U.S. Council of Bishops which require the hospital to provide the highest quality of care to patients regardless of their income or insurance status. However, the nurses contend the hospital is not living up to this directive as it fails to provide adequate staffing, which leads to delay in care and insufficient support for patients.
The nurses say the emergency room is often overburdened, resulting in long waits and delays in care. Additionally, patients are often held in the emergency room without the adequate staff that their level of illness or injury requires. SLUH nurses have documented regular short staffing throughout the hospital, which they say has jeopardized and delayed patient care, including frequent incidents where nurses are caring for more than twice the number of recommended patients. Nurses say SLUH has also failed to implement the workplace violence prevention measures that were required under their last union contract, resulting in increased risk for both nurses and patients. 
Recruitment and Retention of Experienced Nurses
In addition to impacting patient care, unsafe staffing ratios make it difficult for SLUH to retain and recruit experienced nurses. According to statements made by the hospital, there has been a 72 percent turnover of nurses throughout the hospital since 2012, and 15 percent of nursing positions are currently vacant.
Nurses are committed to providing the highest quality of care for their patients. When nurses are unable to do so, they became frustrated and burn out.
"Experienced nurses provide invaluable mentorship to newer nurses," said Marchelle Vernell, a registered nurse in the interventional radiology unit. "When we lose experienced nurses, the patients are deprived of the benefit of their knowledge, and newer nurses lose a teacher."
Anti-Union Efforts
Nurses say the hospital is not only failing to bargain in good faith, but is attempting to undermine the union by harassing nurse leaders, allowing educators to use class time to encourage decertification and offering incentives to nurses to decertify. Within the last few weeks, SSM Health announced it would be offering paid family leave to nurses in their nonunion hospitals, while denying the same proposal in bargaining with the union at SLUH. Managers have told SLUH nurses the benefit would be offered to them, if they voted out the union.
"It's simply egregious that SSM is attempting to punish the nurses at SLUH because they unionized to fight for better conditions for their patients," said Sarah DeWilde, a registered nurse in the trauma intensive care unit. "Catholic teachings support the right of workers to organize and as a Catholic institution SSM should practice and follow these teachings. Furthermore, the money SLUH spends on its anti-union efforts would be better spent on safe staffing and patient care."
National Nurses United Organizing Committee/National Nurses United has represented the nurses at St. Louis University Hospital since 2012.