Press Release
Nurses Hold Community Forum on Nov. 16 to Save Alta Bates Summit Medical Center, Berkeley's Only Acute-care Hospital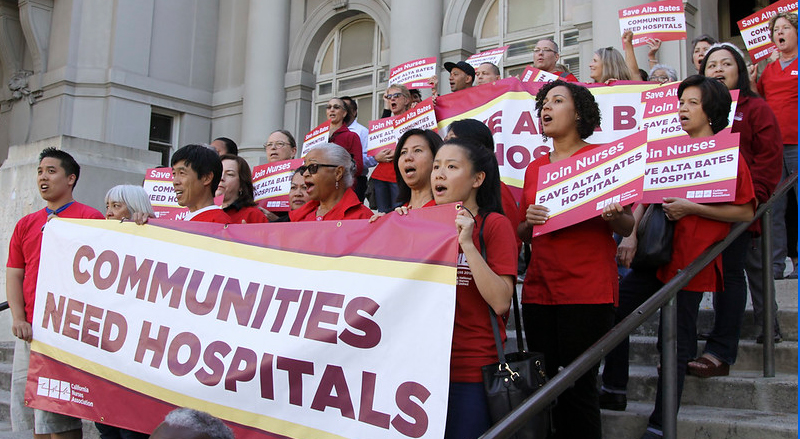 On Saturday, Nov. 16, nurses, local leaders, and other community members will hold a community forum in El Cerrito to keep Alta Bates Summit Medical Center, Berkeley's sole acute-care hospital and birthing center, open.
"If Sutter Health shuts down Alta Bates, the East Bay's health care desert will only get worse, especially in West Contra Costa County," said Rochelle Pardue-Okimoto, mayor of El Cerrito and a neonatal intensive care RN at Alta Bates hospital in Berkeley. "Saving Alta Bates means saving lives." 
"The I-80 Corridor from Berkeley to Richmond needs more emergency room beds, not less," said John Gioia, chair of the Contra Costa County Board of Supervisors. "Seconds count when providing vital emergency care and the closure of Alta Bates would negatively impact access to health care in our region. We need to come together as a community to fight for greater health care investment in our area, including keeping Alta Bates open as a full-service acute-care hospital."
The co-sponsors of the forum include:
Contra Costa County Supervisor John Gioia
El Cerrito Mayor Rochelle Pardue-Okimoto, RN
Albany Mayor Rochelle Nason
Berkeley Mayor Jesse Arreguín
California Nurses Association
Associated Students of the University of California (ASUC), Berkeley
Speakers at the forum include: Supervisor John Gioia, Mayor Rochelle Pardue-Okimoto, RN, Derek Imai (ASUC), nurses, and other community members. 
What: Community Forum to Save Alta Bates Medical Center
When: Saturday, Nov. 16, 10 a.m. to 12 p.m.
Where: El Cerrito Community Center, 7007 Moeser Lane, El Cerrito
"The closure of Alta Bates Hospital will have a detrimental impact to East Bay communities along the I-80 corridor," said Mike Hill, an RN at the Oakland campus of Alta Bates Summit Medical Center. "This impact is the difference between life and death for every current and potential patient seeking fundamental care."
Background:
In 2016, Sutter Health announced its intention to close Alta Bates Hospital, although it had pledged to keep the hospital open when it merged with Summit Medical Center in 1999. Sutter refuses to comply with California's current seismic standards (Senate Bill 1953, enacted in 1994) and retrofit Alta Bates by 2030.
In 2017, Berkeley Mayor Arreguín convened the Alta Bates Regional Task Force to stop the closure. Cities along the East Bay's I-80 corridor have passed resolutions opposing the Alta Bates' closure, including Oakland, Emeryville, Berkeley, Albany, El Cerrito, Richmond, and San Pablo.
In December 2018, the Rapid Health Impact Assessment report by UC Berkeley's Institute of Urban and Regional Development was released. Commissioned by the Alta Bates Regional Task Force, the report highlights the "likely health impacts from the closure of Alta Bates" on vulnerable populations, UC Berkeley students, and emergency medical services. 
The City of Berkeley has repeatedly asked Sutter for information about the cost of a retrofit and its plans for the future of Alta Bates, but Sutter refuses to provide any answers to the city or to any public agency.  
Alta Bates Summit Medical Center is the sole acute-care hospital and birthing center in Berkeley. In 2017, Alta Bates had 5,863 births and 45,336 ER patient visits and it is the only non-Kaiser hospital serving the I-80 corridor between Vallejo and Oakland.
The California Nurses Association has 100,000 members and is a founding member of National Nurses United, the largest and fastest growing union and professional association of registered nurses in the United States with more than 150,000 members nationwide. CNA/NNU plays a leadership role in safeguarding the health and safety of RNs and their patients and has won landmark legislation in the areas of staffing, safe patient handling, infectious disease, and workplace violence prevention.