Press Release
Nurses to Highlight Landmark New Rules on Prevention of Workplace Violence in Hospitals – Model for National Regs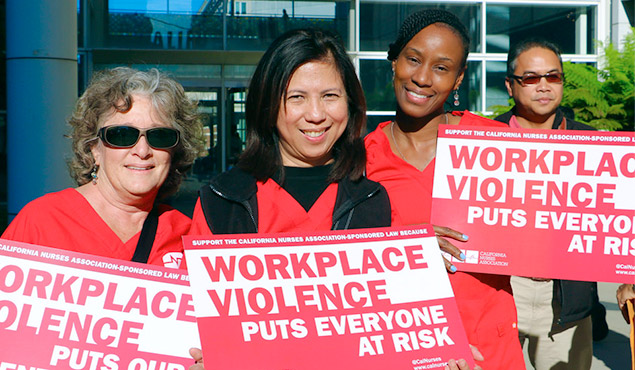 California Press Conference Tuesday
Registered nurses who have encountered workplace violence in hospital settings will speak out Tuesday, April 3 in a California Nurses Association/National Nurses United (CNA/NNU) press conference in Oakland to highlight the implementation of the strongest state workplace violence prevention rules in the nation, which nurses say is a model for what should be adopted in all workplace settings in the U.S.
The groundbreaking California rules, effective as of Sunday, April 1, take on added significance at a time of growing national concern over public safety in workplaces from healthcare facilities to schools and other settings amidst widespread calls for safety laws—especially on gun violence—highlighted by student-led rallies and protests from coast to coast March 24.
What: Press Conference on New Calif. Healthcare Workplace Prevention Regulations
When: Tuesday, April 3, 2018, 10 a.m. to 11 a.m.
Where: 155 Grand Ave., Oakland, CA, CNA/NNU offices
Live Stream: https://www.nationalnursesunited.org/videos
California's new regulations, established by the California Occupational Safety and Health Administration (Cal/OSHA), based on a CNA-sponsored law, are also the model for federal legislation (H.R. 5223, the Health Care Workplace Violence Prevention Act) introduced in March by Rep. Ro Khanna with the support of 14 other members of Congress.
"What works for healthcare facilities should be extended to all workplaces," says Bonnie Castillo, RN, NNU Executive Director, noting that in California RNs are working with CalOSHA to develop additional regulations to expand workplace prevention rules across other settings.
At least 58 hospital workers died as a result of violence in their workplaces between 2011 and 2016, as reported in the U.S. Bureau of Labor Statistics Census of Fatal Occupational Injuries. BLS data has also found the nonfatal injury rate for RNs in the private sector due to violence in 2016 was three times higher than in any other industry.
"Our patients and their families are then also at risk because violence impacts everyone in the vicinity," Castillo said. "We know that the frequency and severity of these violent attacks can be drastically reduced through workplace violence prevention plans that are specific to the needs of each facility and unit, and are created with the expertise and input of nurses and other workers."
California employers are now required to identify specific risk factors and establish procedures to correct any workplace violence hazards, including adequate staffing to protect nurses, other health workers, patients, families and other visitors. The regulations also require training for all employees that emphasizes preventive measures, such as how to recognize potential violence and counteract risk factors, as well as employee involvement in development and implementation of prevention plans.
Similarly, the federal bill would mandate that the federal Occupational Safety and Health Administration (OSHA) develop a national standard on workplace violence prevention that would require health care facilities to develop and implement comprehensive facility and unit-specific workplace violence prevention plans.
"Are there enough preventions to keep us safe?" asks San Francisco RN Jane Sandoval. "That's very concerning, obviously, not just for nurses and other staff—but also for patients, families and visitors, who are put at risk. So a plan should be in place, not just when someone makes a threat, but all the time."