Press Release
Nurses, Healthcare Activists Plan Rally for Our Future in Cleveland Heights, Ohio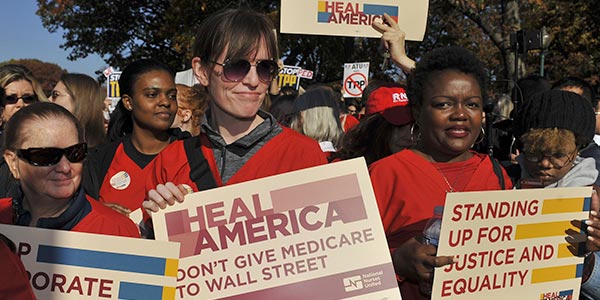 Thursday Nov. 17 - 6:30 PM, Cleveland Heights
Members of NNOC-Ohio/National Nurses United, Single Payer Action Network (SPAN) and Demand Universal Healthcare (DUH), are holding a community gathering and rally Thursday, to express their support for a singlepayer healthcare system in the U.S. and to reject House Speaker Paul Ryan's threats to privatize Medicare.
The evening will also feature the area premiere of the new documentary, Now is the Time, by Laurie Simons and Terry Sterrenberg, makers of the classic, The Healthcare Movie. After the film, panelists, including the filmmakers, and area healthcare advocates, will answer questions from the audience and discuss next steps to achieving a single payer system in the U.S., particularly in light of the recent elections.
What: Rally for Our Future/Free film screening and panel on future of healthcare in U.S.
When: Thursday, Nov. 17. Rally begins 6:30 p.m. Film begins 7:00 p.m.
Where: Cedar Lee Theatre, 2163 Lee Rd, Cleveland Heights, Ohio 44118
Note: The film screening and panel discussion are free and open to the public.
Activists will also celebrate the apparent defeat of the fatally flawed Trans Pacific Partnership agreement, following months of protests by labor and progressive organizations that culminated in the opposition to the trade deal by all three leading Presidential candidates.
"For two years people have been fighting to defeat the TPP (Trans-Pacific Partnership) to protect our health, jobs and planet. Although President Obama is no longer pursuing this devastating trade dealwe know that, in light of the election results, we must continue to come together as community to demand a future that works for all of us and this includes quality healthcare," said registered nurse Lisa Nguyen.
"This film provides a wonderful opportunity to focus on solutions that will guarantee healthcare as a human right.  Now, more than ever, it is essential for us to stand together," said Nguyen.  ­­