Press Release
Nurses at Good Samaritan Hospital in Los Angeles Ratify Three-Year Contract with Protections to Improve Patient Safety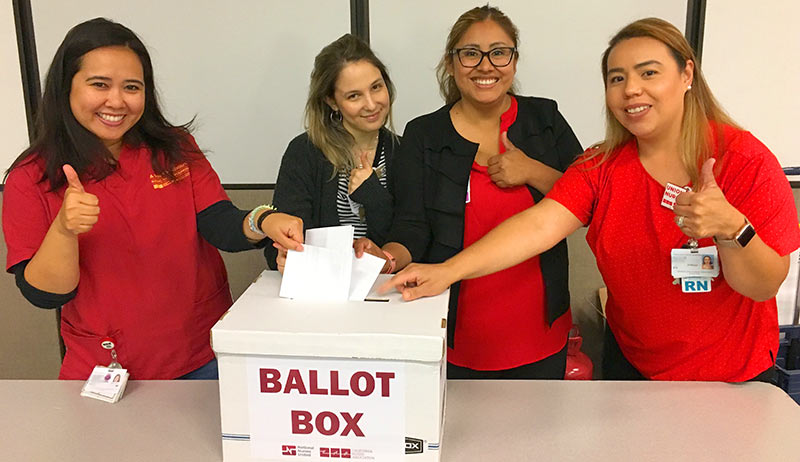 Registered nurses at Good Samaritan Hospital in Los Angeles, Calif. overwhelmingly ratified a new three-year contract, announced California Nurses Association (CNA) today.
 
"I am so proud of the nurses who stood strong and were able to reach a contract that held the line against management's proposed takeaways," said Sandra Rodriguez, RN, and member of the union's negotiating team. "This contract respects and maintains RNs professional and economic standards and strengthens our ability to effectively advocate for our patients."
Highlights of the contract include:
Supporting safe staffing for safe patient care. The new agreement includes patient care and RN working conditions improvements, including protections from unsafe "floating" assignments to areas requiring specialty expertise and improved protections around mandatory overtime. Nurses are able to provide the best care when they work in units that they are trained to work in and when they are able to rest properly between shifts.
Improved professional development training opportunities. The new contract includes incentives for nurses who seek professional advancement with unit-specific certifications. Unit specific training improves patient safety and care. In addition, the contract expands tuition reimbursement benefits to include the cost of materials, books, and other fees.
Improved on-the-job protections. This contract includes new language to protect against discrimination and harassment on the job in relation to veteran status, gender identification, genetic condition, or pregnancy. The contract also includes the hospital's commitment to minimize nurses' exposure to communicable diseases.
Economic gains and health benefit protections to help retain and recruit experienced nurses. The new contract includes pay increases of 13% over the term of the contract, with additional wages increases for shift differential. The contract retains health benefits and medication benefit provisions. Registered nurses say it is imperative that they be able to access and afford high quality care in order to provide high quality care to their patients.
CNA represents 600 nurses at Good Samaritan Hospital. CNA has represented Good Samaritan Hospital nurses since 1998.