Press Release
Nurses at Good Samaritan Hospital and Regional Medical Center in San Jose Vote Overwhelmingly to Ratify New Contract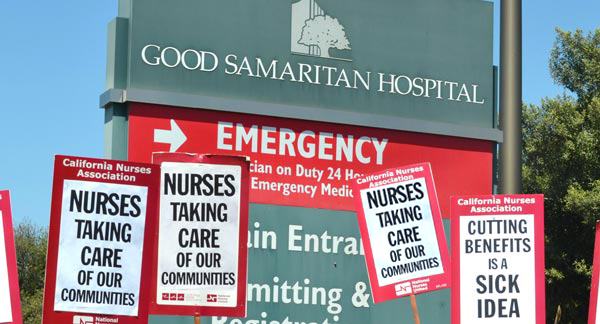 Registered nurses at Good Samaritan Hospital and Regional Medical Center in San Jose overwhelmingly ratified a new three-year contract, announced California Nurses Association (CNA) today. The agreement is the result of a bargaining campaign that included three picket lines and two strike votes.
"With this new contract, nurses can continue to provide optimal care for our patients," said Jennifer Rodas, an RN at Good Samaritan Hospital and member of the bargaining team. "RNs stayed united because we are dedicated to our community. We want to ensure that we retain the best nurses to care for our patients."
"We picketed and voted to strike because we want to make sure patients who come to Regional Medical Center get optimal care," said Maureen Zeman, RN and member of the bargaining team. "We advocated for our community and for our staff. We want to retain experienced nurses because their expertise and knowledge greatly benefits our patients."
Highlights of the contract include:
Supporting optimal patient care. The new agreement includes important provisions that support patient care and RN working conditions. The contract creates a new committee that ensures that nurses have a voice in the implementation of the hospital's new scheduling system.The contract also includes new provisions that strengthen the advocacy role of the registered nurse.
Economic gains and health benefit provisions to help retain and recruit experiences nurses. The new contract includes a minimum of 3 percent increase in pay for all nurses in the first year of the agreement with a maximum of 27 percent over the term of the contract for some nurses. The top of the wage scale will increase by more than 14 percemt over the life of the agreement.
Maintains all standards and benefits of previous contract, with no takeaways. Contract provisions include additional paid family leave.
Investment in education. Increased tuition reimbursement for nurses continuing education. Contract provisions also include a new student loan repayment benefit.
To interview a nurse about the new contract, contact Luis Bocaletti, 408-439-7953 or Chuleenan Svetvilas, 510-631-5337.
CNA represents nearly 2,000 nurses at Good Samaritan Hospital and Regional Medical Center.