Press Release
Nurses give 10-day notice for one-day strike to University of Chicago Medical Center in response to staffing proposal that would jeopardize patient care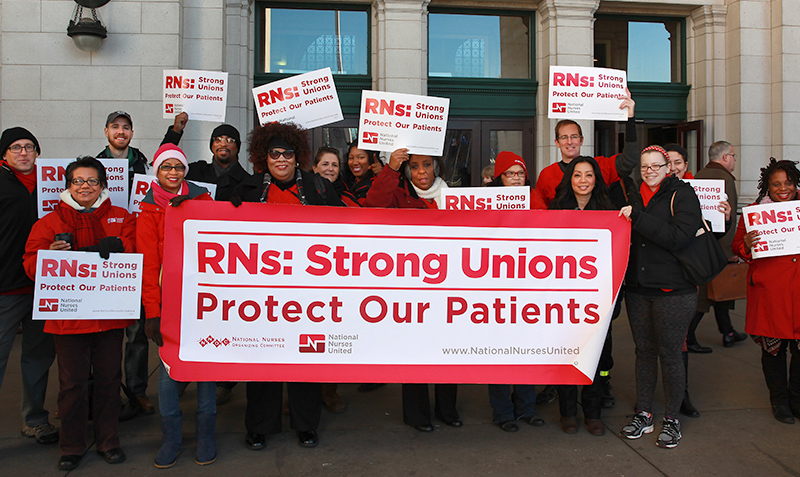 Registered nurses at the University of Chicago Medical Center (UCMC) today delivered hospital management a 10-day notice for a one-day strike on Nov. 26 in response to a new UCMC staffing proposal that nurses say puts patient care in jeopardy, announced National Nurses Organizing Committee/National Nurses United (NNOC/NNU).
On Nov. 7, UCMC proposed eliminating patient care support nurses who provide critical and expert level care to patients.
"As a patient care support nurse, I am called in to provide a pair of experienced hands to care for patients with complex needs or who are deteriorating rapidly," said Kristin Yokovich, RN. "We are nurses who are pulled into different units, where we work as mentors to younger nurses because most of us have more than 10 years in nursing, while the hospital average is four years. We also make rounds in high-acuity units, making sure that IV pumps are working, that patients are getting the care they need, and that nurses are getting the guidance and support they need. If we are no longer there to help out in these critical conditions, I know patient safety will be compromised." 
The nurses say they intend to remain at the bargaining table during the next 10 days, but if no significant progress is made, they will be forced to hold a one-day strike on Nov. 26. The legally required 10-day advance notice will allow UCMC the necessary time to make appropriate preparations, including postponing elective procedures.  
National Nurses Organizing Committee is affiliated with National Nurses United, the largest and fastest growing union of registered nurses in the United States with 150,000 members. NNU plays a leadership role in safeguarding the health and safety of RNs and their patients and has won landmark legislation in the areas of staffing, safe patient handling, infectious disease, and workplace violence prevention.