Press Release
Nurses Donate $50,000 to Aid Veterans Stand with Standing Rock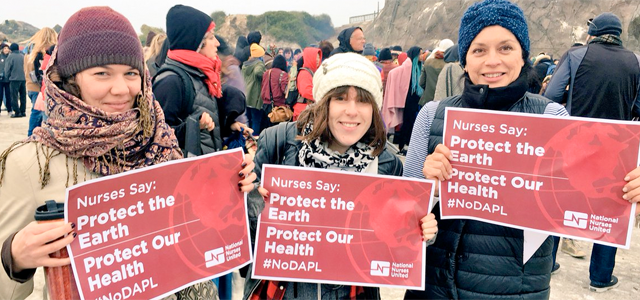 As Third Delegation of RN Volunteers Heads to North Dakota
RNs Call to President Obama, Attorney Gen Lynch to Intervene
National Nurses United today announced that it is donating $50,000 to support U.S. service veterans who are assembling this weekend as peaceful, unarmed defenders for the water protectors at the Standing Rock Sioux Reservation in North Dakota who are enduring military style police assaults for opposing the Dakota Access Pipeline (DAPL) project.
U.S. Rep. Tulsi Gabbard of Hawaii, herself a decorated veteran, will be joining with the Veterans Stand for Standing Rock mobilization to support the protectors and help raise public attention to the growing human rights emergency that has emerged at the protest site in the face of increased attacks.
The NNU donation will assist a delegation of Navajo veterans from Arizona and New Mexico who will join the veterans gathering this weekend. Through NNU's Registered Nurse Response Network, RN volunteers have worked with Navajo First Nation members before, providing first aid in September at the Navajo Nation Fair in Window Rock, AZ.
Veterans Stand for Standing Rock plan a deployment December 4 to 7 of 2,000 veterans of the U.S. Army, Marine Corps, Navy, Air Force and Coast Guard who intend to "defend the water protectors from assault and intimidation of the militarized police force and DAPL security."
Concurrently, NNU is dispatching its third delegation of RN volunteers Saturday to stand in solidarity with the water protectors and their supporters.
"We salute the brave veterans who are standing up for the rights of the water protectors, and all of us who support this critical defense of the First Amendment right to assemble and protest without facing brutal and unwarranted attacks," said NNU Co-President Jean Ross, RN.
In a letter last week to Attorney General Loretta Lynch, NNU urged the Department of Justice "to promptly end the militarized response to Standing Rock water protesters and immediately stop the law enforcement use of military grade weapons and equipment that comes from the federal government."
Nurses also support the call by tribal leaders on President Obama to deny the easement for the pipeline and "to protect the water for Standing Rock citizens and the 17 million people downstream"  as well as the call on North Dakota Governor Jack Dalrymple to "stop the constitutional and human rights violations that are happening at Standing Rock."
A combination of police agencies in apparent collaboration with DAPL private security contractors have reportedly used rubber/plastic bullets, tear gas grenades, pepper spray, sound cannons, and water cannons in sub-freezing temperature against those who oppose construction of a pipeline that the Standing Rock Sioux and allies say threatens water resources and ancestral sacred sites.
One protester, 21-year-old Sophia Wilansky, has faced the loss of an arm after being hit with a police concussion grenade, according to the Standing Rock Medic and Healer Council.
NNU volunteers will also be on hand this coming weekend. One RN headed to the site this weekend, Amy Bowen, said she is "committed to exhausting every effort to help save our environment and take a stand for our most basic human necessity: clean, oil-free water.
"I, along with other nurse volunteers with RNRN, will stand in solidarity to support the water protectors," Bowen said.