Press Release
Nurses Demand Answers at Dignity Health/Catholic Health Initiatives Merger Hearings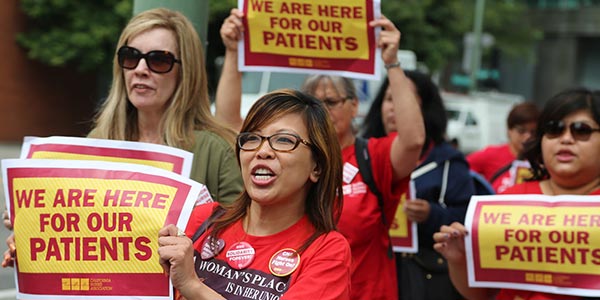 Siskiyou County hearing to take place Monday, September 24, at 3 p.m.
At a series of upcoming impact hearings held by the California State Attorney General's office, registered nurses with the California Nurses Association/National Nurses United (CNA/NNU) will demand to know how the proposed merger between Dignity Health and Catholic Health Initiatives (CHI) will impact patient health and safety, healthcare access, and maintenance of charity care standards.
"Nurses will always stand up for our patients, and so we are coming together to hold dignity accountable for continuing to provide the care our communities deserve—and keeping hospitals open for a minimum of 15 years. We also expect Dignity to respect the rights of nurses, and until we have answers to our questions, we can't support this merger," said Alison Welsh, RN, of Dominican Hospital.
Seventeen impact hearings will be taking place throughout California, with the Ventura County hearing concerning Dominican Hospital in Santa Cruz.
What: RNs Demand Answers at Dignity/CHI merger impact hearing
When: Monday, September 24, 3 p.m.
Where: Santa Cruz Police Department,
Community Room, 155 Center Street, Santa Cruz, CA 95060
Dignity Health operates 30 hospitals around the state. The merger bringing Dignity Health and CHI together will also create a new non-Catholic entity, Integrated Healthcare Operations. At the hearing, CNA/NNU nurses will address their concerns to the office of California Attorney General Xavier Becerra, with key concerns including:
Commitment to keep hospitals open to serve the community for a minimum of 15 years. Nurses who work for Dignity say that they are especially concerned about potential hospital closures and how those closures will effect the community, given that the current merger agreement keeps the hospitals open for just five years. Nurses want a commitment from Dignity Health/CHI to keep hospitals open and maintain services for a minimum of 15 years.
"Any hospital closure would have a significant impact on our patients," said RN Sandy Reding of Bakersfield Memorial Hospital in Bakersfield. "For example, in Kern County, more than 40 percent of Emergency Department events are at Dignity Hospitals. Where will our patients go if these hospitals close?"
Nurses also cite numerous instances where key services are provided only at a Dignity hospital. In Sacramento, Methodist Hospital is one of just two hospitals that offer long term behavioral disorder care. And in San Luis Obispo, French Hospital is one of only two hospitals currently offering premature nursery care.
Maintaining current levels of charity care, healthcare provided for free or reduced prices to low-income patients, after the merger. RNs point out that despite increased scrutiny in recent years, culminating in a 2018 decision by Becerra to reject three California hospitals' appeals to be exempted from charity care obligations, recent data has shown a sweeping drop this decade in what California non-profits overall are providing in charity care. In this atmosphere, Dignity and CHI are proposing to align their respective health ministries pursuant to an agreement RNs say significantly revises the way in which the Attorney General has historically held nonprofit hospitals to their charity care obligations.
"Dignity and CHI have a responsibility to provide the charity care that our vulnerable patients deserve, especially when more than 12 million Californians are struggling to pay their medical bills," said Marina Bass, RN, of California Medical Center, Los Angeles. "Nurses are here to hold them accountable and prevent them from trying to avoid their charity care obligations."
Ensuring nurses' right to advocate for their patients remains intact. Nurses say that their collective bargaining agreements after the merger, which include patient safety language and patient care protections, as well as RN pensions, may be at risk.
"We must continue with a strong voice for our patients, and the continuity of care that is assured by the maintenance of a good union contract," said Carol Koelle, RN, of Saint Bernardine Medical Center, in San Bernardino. 
Ensuring seismic safety and protecting RN pensions to reduce turnover. Nurses will also convey to the Attorney General a demand for the enforcement of language for merging hospitals to meet and comply with California's office of Statewide Health Planning and Development (OSHPD) on seismic requirements, and for the protection of RN pension plans, to prevent RN turnover and maintain continuity of care for patients.
"When our contract and our right to bargain and address workplace issues that protect our patients are at risk, then our patients are at risk," says Dennis.  "Dignity needs to answer to us and to the community we care for. We cannot support this merger until we know that there will be a guaranteed continuation of care and services in the communities we serve for a minimum of 15 years, and until we know that our union contracts and pension are secured."
The California Nurses Association represents nearly 100,000 registered nurses in California, as part of National Nurses United, the largest U.S. union of RNs, with over 150,000 RNs nationwide.