Press Release
Nation's largest RN union condemns CDC rollback on Covid protection guidance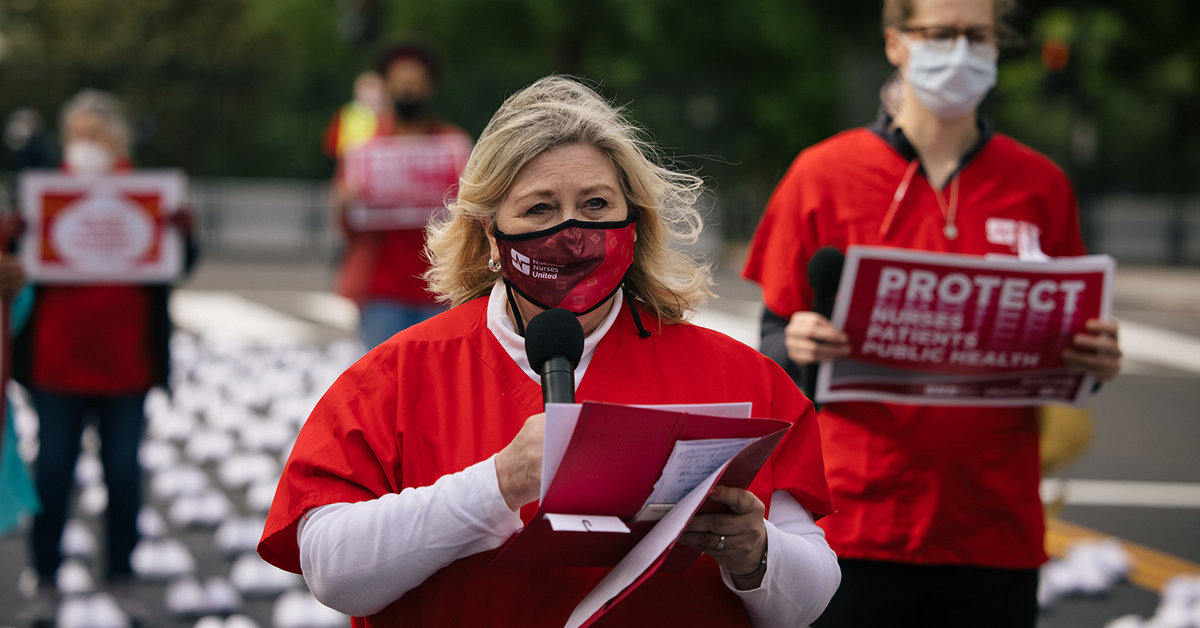 National Nurses United (NNU), the largest union of registered nurses in the United States, today condemned new Centers for Disease Control and Prevention (CDC) guidance stating that fully vaccinated people no longer needed to wear masks, avoid crowds or large gatherings, and no longer needed to isolate after exposure or get tested unless they develop symptoms.
Nurses say that given the threat to their patients across the country, they are especially disappointed that the CDC would ease up its Covid guidance on the heels of International Nurses Day.
"This newest CDC guidance is not based on science, does not protect public health, and threatens the lives of patients, nurses, and other frontline workers across the country," said NNU Executive Director Bonnie Castillo, RN. "Now is not the time to relax protective measures, and we are outraged that the CDC has done just that while we are still in the midst of the deadliest pandemic in a century."
"CDC issued this new guidance even though the Occupational Safety and Health Administration (OSHA) emergency temporary standard mandated by President Biden's Jan. 21 executive order has been delayed for two months. This lack of protection compounds the dangers that nurses and other essential workers continue to face on the job," Castillo continued.
National Nurses United cites concerns with the new guidance including:
A continued high number of Covid cases in the United States, with more than 35,000 new detected infections reported each day, and more than 600 people dying from Covid each day. Yesterday, 780 people died from Covid-19.
 
Circulation of Covid variants of concern that are more transmissible, deadlier, and may already be or may become vaccine resistant.
 
Unanswered questions about vaccines. Nurses emphasize that it's unclear how well vaccines prevent asymptomatic and mild Covid infections, how well vaccines prevent transmission of the virus, and how long protection from vaccines will last.
 
The CDC announced they would no longer be tracking infections among fully vaccinated people unless they result in hospitalization or death. This means that the CDC is no longer tracking data necessary to understand whether vaccines prevent asymptomatic/mild infections, how long vaccine protection may last, and to understand how variants impact vaccine protection.
 
The CDC "recognized" scientific evidence on aerosol transmission but refused to update guidance based on science. Nurses say the CDC needs to fully recognize aerosol transmission and update its Covid guidance accordingly to prioritize measures that prevent and reduce aerosol transmission (ventilation, respiratory protection, testing to identify asymptomatic cases).

"If the CDC had fully recognized the science on how this deadly virus is transmitted, this new guidance would never have been issued," said NNU President Jean Ross, RN.


Preventing and reducing transmission of Covid requires multiple layers of protective measures. Nurses say this includes masks, distancing, and avoiding crowds and large gatherings—in addition to vaccines. Importantly, it also includes protecting nurses and other frontline workers from workplace exposure to the virus. Vaccines are only one important component of a robust, public health infection control program

All of our protective measures should remain in place, in addition to vaccines. This pandemic is not over," said NNU President Deborah Burger, RN. "Nurses follow the precautionary principle, which means that until we know for sure something is safe, we use the highest level of protections, not the lowest. The CDC is putting lives at risk with this latest guidance."


The recent guidelines are unjust and will disproportionately harm Black, Indigenous, and people of color.

"There has been so much inequity in the vaccine rollout and racial inequity in who is a frontline worker put most at risk by this guidance. The impact of the CDC's guidance update will be felt disproportionately by workers of color and their families and communities," said NNU President Zenei Triunfo-Cortez, RN.


National Nurses United said the new CDC guidance underlines the importance of OSHA issuing a long overdue OSHA emergency temporary standard (ETS) on infectious diseases without delay.

"If OSHA does not issue a Covid ETS immediately, we will undoubtedly see more unnecessary, preventable infections and deaths, as well as long Covid cases among nurses and other frontline workers," said Triunfo-Cortez.