Press Release
Nurses Condemn Attacks on Water Protectors Opposing the Dakota Access Pipeline Project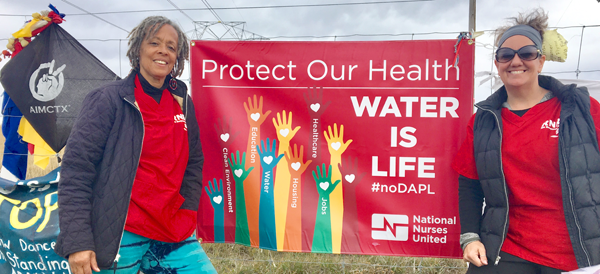 National Nurses United today sharply condemned police and armed guard attacks on members of the Standing Rock Sioux Tribe, other First Nations, environmental activists, and other protectors who have bravely participated in protests against the Dakota Access pipeline project.
Reports of police using pepper spray, military grade equipment, and other military style tactics follow physical attacks on protesters by armed security guards who have who have used dogs in ways reminiscent of assaults on peaceful protesters during the Civil Rights movement, as well as arrests of media covering the protests.
"This has become a seminal battle over the First Amendment protection of public protest. It is also a challenge for everyone who is concerned about the rights of First Nation people and their sacred sites and water sources, as well as the threat the pipeline poses to environmental degradation, public health, and to accelerating the climate crisis," said NNU Co-President Jean Ross, RN.
NNU, through its Registered Nurse Response Network, a national network of volunteer RNs, has deployed nurse volunteers to assist with first aid needs for the land and water protectors. NNU remains committed to continuing that program in support of the DAPL protests as needed, said Ross.
"We are proud of those who are raising their voices for all of us. We are gratified to see the many public figures, including Sen. Bernie Sanders, who have stood with the Standing Rock Sioux and other protectors, as well as our union brothers and sisters in the Communications Workers of America, Amalgamated Transit Union, American Postal Workers Union, and Service Employees International Union who have also expressed solidarity for this historic fight," Ross added.
NNU voiced its support for the protectors in early September, and also challenged claims that pipelines are a way to ensure safety of the transport of dirty, polluting crude oil.
"Contrary to claims of supporters, pipeline transportation of this volatile oil is far from safe. We have already witnessed many examples of pipeline spills from ruptured pipelines that have contaminated water supplies and led to numerous problems of respiratory ailments and other health symptoms associated with the spills," Ross said.