Press Release
Nurses & Community Leaders to Hold a Press Conference ahead of Special City Council Meeting to Save Community Hospital Long Beach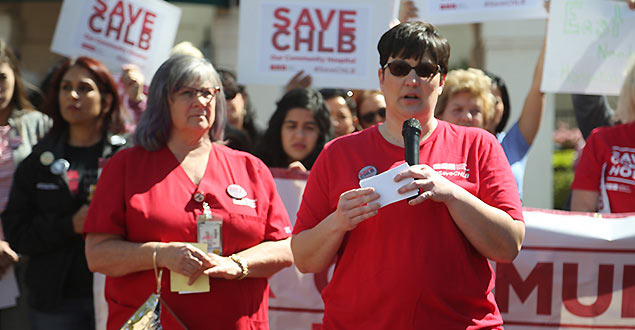 Nurses and community leaders will hold a press conference Tuesday afternoon ahead of the Long Beach City Council's special meeting to provide an update on the campaign to save Community Hospital Long Beach.   
The California Nurses Association/National Nurses United (CNA/NNU), which represents CHLB RNs, contends the hospital operator, MemorialCare, is accelerating the closure for business goals unrelated to the stated seismic reasons, and is seeking to circumvent growing public opposition with trumped up reasons to hasten the shutdown. CNA/NNU contends that MemorialCare used bogus facts to fabricate an alleged understaffing situation that led to closing the emergency room on diversion prematurely and most likely in violation of state law.
The CNA is calling on the California Department of Public Health to require MemorialCare comply with legal notice standards and not waive the 90 days notice requirement before instituting acute life support (ALS) diversions.
What: Press Conference—Update on Campaign to Save CHLB
When: 2:30 pm, Tuesday, April 3
Where: Long Beach City Hall, 333 W. Ocean Boulevard
Following the rally and press conference, registered nurses and community leaders will proceed to the Long Beach City Council's special meeting on efforts to keep CHLB open as a full service acute facility. Nurses say that closing CHLB would leave community members living in a "healthcare desert" and force emergency and acute care patients to seek treatment miles away, causing potentially life-threatening delays.  
CNA is joining with other community residents and leaders to demand MemorialCare:
Stop the diversion of ALS patients immediately

Cease all aggressive moves towards immediate closure and operate within the law.  

Restore the capacity for CHLB to operate as a full service hospital.  

Renew the hospital's license to ease the transition to a new operator

Support a public hearing on the future of CHLB

Keep the promises LBMMC made to the Long Beach community.
 The California Nurses Association has 100,000 members throughout the state. CNA is affiliated with National Nurses United, the largest and fastest growing union of registered nurses in the US with more than 150,000 members nationwide. CNA/NNU plays a leadership role in safeguarding the health and safety of RNs and their patients and has won landmark legislation in the areas of staffing, safe patient handling, infectious disease and workplace violence prevention.