Press Release
Nurses, Community Leaders to Discuss New Reports Documenting Johns Hopkins Hospital's Failure to Provide Adequate Charity Care and Address Problems in Patient Care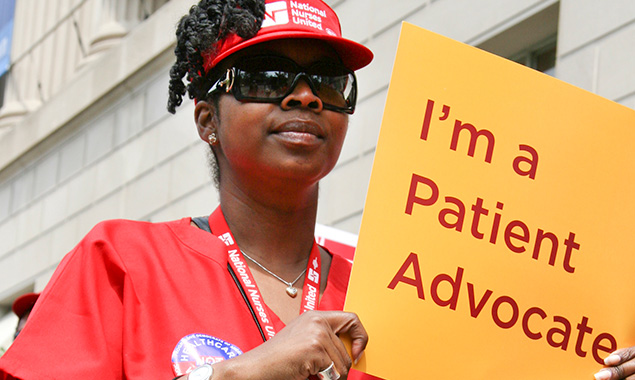 Hopkins Nurses Speak Out!
Town Hall – Sat. Dec. 1, 10:30 a.m. – 12:30 p.m
Johns Hopkins nurses will present three new reports documenting patient care concerns at the hospital and how these concerns extend far into the city of Baltimore at a town hall planned for Saturday, Dec. 1, 2018.  The town hall, titled "Hopkins Nurses Speak Out!" will be held at the Reginald F. Lewis Museum of Maryland African-American History & Culture in Baltimore.
Also participating in the town hall will be Baltimore Councilmembers, Shannon Sneed, Kristerfer Burnett, Zeke Cohen, and Robert Stokes, Sr. as well as, Maryland Delegate Brooke Lierman. Reverend Marlon Tilghman, co-chair of Bridge Maryland, and Pastor of Ames United Methodist Church, Betty Robinson, community organizer and former Senior Research Coordinator at Johns Hopkins School of Public Health and Marisela Gomez, M.D., Ph.D., author and community organizer, will participate as community respondents to the report findings.
The new reports cover three main areas: A unit-by-unit survey of patient care conditions in the hospital, an analysis of Johns Hopkins tax exemptions and public rate support and the community benefits and charity care it provides in exchange, and an assessment of how the institution is responding to the ongoing problem of workplace violence.
What:  Town Hall featuring presentation of new reports on Johns Hopkins Hospital patient care and public accountability.  
When: Saturday, Dec. 1, 10:30 a.m. – 12:30. p.m.
Where: Reginald F. Lewis Museum of Maryland African-American History & Culture, 830 E Pratt St., Baltimore. (Discounted parking available in garage at 815 E. Pratt Street.)
The reports, which will be available at the town hall and on request, include:
Foundations of Care:  Upholding the Legacy of Hopkins' Nurse Pioneers
Johns Hopkins Hospital Patient Care Report – This report's findings are based on a recent unit-by-unit survey conducted by nurses that work at Johns Hopkins Hospital. It flags chronic hospital-wide problems such as short and inappropriate staffing, high turnover, a lack of critical supplies, and shoddy equipment.
Breaking the Promise of Patient Care: How Johns Hopkins Hospital Management Shortchanges Baltimore and Puts Patients and the Community at Risk – This report, produced by researchers from National Nurses United and the AFL-CIO, documents that the hospital receives far more in annual tax exemptions and public rate support than it provides in charity care and community benefits, despite the tremendous need for both in the communities surrounding the hospital.  
Nurses at Risk: Insufficient Protections at Johns Hopkins Hospital Compromise Nurse and Patient Health and Safety – This report reveals the institution's failure to adopt robust policies to prevent and respond to workplace violence and how this undermines and endangers patients and nurses. [note: Print version of this report is appended to Foundations of Care report]
"We are very excited to share and discuss the report findings with our community," said Kimberly Henriquez, RN, Oncology. "They reveal a wide discrepancy between the image the institution projects, and what's really going on day-to-day, unit-by-unit. Nurses are organizing to close that gap so that our patients and our community get the care they deserve."
"We are inviting nurses and the wider community to come to the town hall so that together we can hold Johns Hopkins Hospital accountable to its founder's vision and to the community he meant it to serve," said Annie Embertson, RN. Endoscopy. "We are inspired by the legacy of Hopkins' own nurse pioneers who showed us that to be effective patient advocates we absolutely must speak out."