Press Release
Nurses, Community Leaders Call on D.C. City Leaders to Save Providence Hospital Emergency City Council Hearing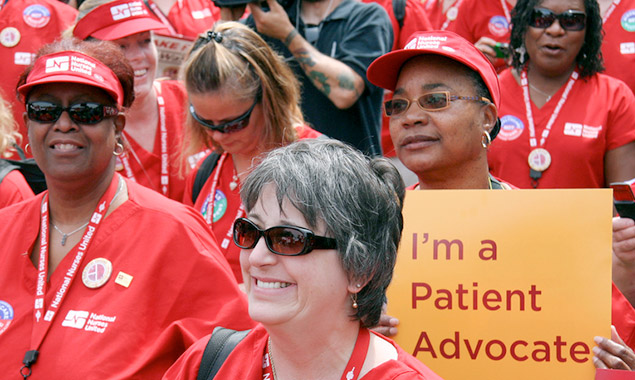 At an emergency D.C. City Council hearing on Wednesday, Oct. 10, nurses, doctors, community leaders, and faith activists will call on city leaders to demand that Providence Hospital remains open as a fully functioning hospital with acute-care services, National Nurses Organizing Committee/National Nurses United (NNOC/NNU) announced today.
Providence Hospital is owned by Ascension, the largest nonprofit health system in the United States and the world's largest Catholic health system. Nurses say Ascension has an obligation to uphold its mission "to serving all persons with special attention to those who are poor and vulnerable."
"Providence is definitely the hospital for the poor in D.C. We serve the poor, the indigent, and the elderly -- where will these people go?" said Elissa Curry, a registered nurse at Providence with 23 years of experience. "As nurses, technicians, and staff people, we take seriously the mission of joy, care, and respect. We have nurses and technicians who have been here 20, 30 years and more. We have the skills to go elsewhere, but we choose to stay here, because we treat the patients like family, and we know we are giving them the best care, no matter their ability to pay. It breaks our hearts that Ascension is looking to abandon this mission."
What: Emergency City Council Hearing – Testimony from Nurses, City Leaders, Faith Leaders
When: Wednesday, October 10 at 10 a.m.
Where: Council of the District of Columbia, The Wilson Building, 1350 Pennsylvania Avenue, NW Washington, D.C., Room 500
From 2013 through 2017, Ascension earned $8.3 billion in profits. Ascension's CEO Anthony Tersigni received a compensation package of $17.6 million in 2015. According to tax filings, from 2013-2016 Tersigni earned more than $54 million.
NNU is calling on the D.C. city council to pass a bill requiring any private acute-care hospital in D.C., such as Providence, to give notice to the State Health Planning and Development Agency (SHPDA) at least six months prior to any proposed closing and to get approval from SHPDA before closing those services.
In addition, hospitals would be required to develop a plan to transfer patient care. Furthermore, the D.C. Department of Health would have the authority to grant a provisional license to the hospital to remain open to allow for the transfer process to be completed.
"It is imperative that our elected officials have a say when our hospitals intend to cut services or close," says Curry. "These hospitals provide essential public services."
Providence Hospital provides critical services to communities that are largely low-income, people of color and the elderly. According to the D.C. Department of Health about 50 percent of the patients who receive care at Providence are insured through Medicaid, while another 30 percent receive Medicare.
The hospital has seen the use of its emergency room jump in recent years. There were 142,000 visits to the Pope Francis Emergency Care Center from 2014 through 2016, representing a jump in usage of nearly 26 percent. Waits at nearby Medstar Washington Hospital Center are already long.
"Last November, my 86-year-old mother had pneumonia, and when we took her to Washington Hospital Center it took three days before she could get a room," says Shelley Haskell, whose mother lives in Ward 5. "When my mother began falling repeatedly in September, the ambulance drivers took her to Providence because Washington Hospital Center was so overcrowded. And thank goodness they did; it turns out she had a stroke. Honestly, if Providence Hospital's emergency room was not an option, I am not sure my mother would be alive today."
Noting the long waits at Washington Hospital Center emergency room, the integral role Providence plays in providing health care to the people of east D.C., Advisory Neighborhood Commissions 5A and 5B passed resolutions calling for the District of Columbia Department of Health to study the impact of closing the acute-care services at Providence Hospital on city residents. In addition, the resolution calls for those acute services to remain open until feasible alternatives can be identified and implemented by the Department of Health and Ascension.