Press Release
Nurses to Co-Host Sanders-Sponsored Convention Forum On Guaranteed Healthcare/Medicare for All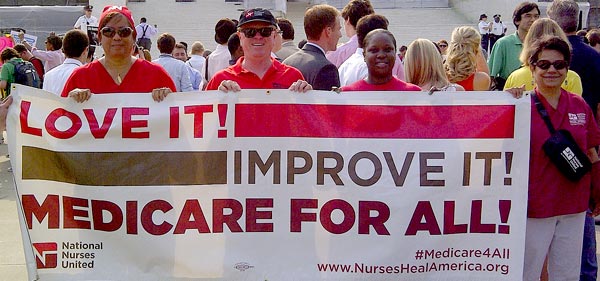 National Nurses United will co-host a forum Monday on the opening day of the Democratic National Convention on the road ahead to continue the campaign for guaranteed healthcare through an improved and expanded Medicare for all.
The forum, one of three that will be convened Monday morning by the Bernie Sanders 2016 campaign, will be held at 9:30 a.m. in Ballroom A in the Philadelphia Convention Center. NNU delegates will also participate in two forums that follow on what's next in the fight to defeat the Trans-Pacific Partnership at 10:45 a.m., and progressive candidate training, which begins at 12:15 a.m., both also in Ballroom A.
What: DNC Forum – Medicare for All: The Road to a Single-Payer Health Care Program
When: Monday, July 25, 9:30 a.m.-10:30 a.m.
Where: Pennsylvania Convention Center, Ballroom A, 1101 Arch St., Philadelphia
Hosts: Bernie 16, National Nurses United, Progressive Democrats of America
Medicare for all was a centerpiece of the Sanders campaign, and an issue NNU, the nation's largest organization of nurses, has championed for many years. An amendment to add support for Medicare for all to the Democratic Party platform was defeated by former Secretary of State Hillary Clinton's appointees, first at the platform drafting committee meeting in St. Louis last month, then at the meeting of the full platform committee earlier this month in Orlando.
Forum participants will address how to escalate the movement for Medicare for all/single payer in Washington, and in state-based campaigns that are presently underway across the U.S. Recent polls show that following the high visibility of the issue in the Sanders campaign, 58 percent of all Americans, and 81 percent of Democrats, support Medicare for all.
"Nurses see first hand the patients who still do not have any health coverage, or have private insurance plans that limit what care they can receive, or impose such high out of pocket costs that they forego needed care. We will never give up working to guarantee everyone is able to get the care, without facing severe economic distress, where and when they need it," said NNU Secretary-Treasurer Martha Kuhl, RN who will speak at the forum Monday.
Other speakers at the forum will include PDA chair Donna Smith, Minnesota Nurses Association executive director Rose Roach, Stephanie Nakajima and Ben Day of Healthcare NOW, James Zogby of the Arab-American Institute who the introduced the proposed Medicare for all amendment in St. Louis, and NNU's Michael Lighty who introduced the amendment in Orlando.
Even with the gains made under the Affordable Care Act, one-fifth of people under age 65 with health insurance have problems paying their medical bills. Nearly two of those said they'd used up all or most of their savings; 42 percent took on an extra job or more work hours; 14 percent moved or took in roommates; 11 percent turned to charity, according to a New York Times/Kaiser Foundation survey earlier this year.
Early this week, the New York Times reported that insurance companies in ACA exchanges across the country are projecting huge ACA premium increases in November, right before the election. The proposed hikes include a 60 percent jump in Texas, 49 percent in Oklahoma, and 34 percent in Missouri. California, considered a national model, is projecting a 13 percent premium increase.