Press Release
Nurses Call on Berkeley City Council to Demand Sutter End Plans to Close Alta Bates Hospital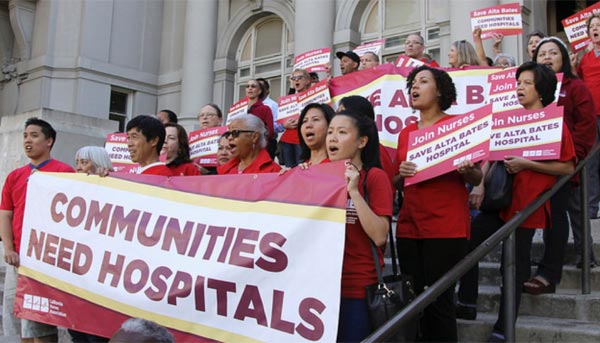 Prodded on by a room full of registered nurses and community supporters, the Berkeley City Council Tuesday night unanimously passed a resolution opposing Sutter Health's plans to close Alta Bates Hospital in Berkeley and to "cease and desist all actions in furtherance" of plans to shut down the hospital. 
Sutter Health has said it will close Alta Bates, the only remaining full-service hospital along the densely populated corridor between Oakland and Vallejo, by no later than 2030, though it is widely expected that Sutter will begin reducing patient care services there within a couple of years, nurses say.
Sponsored by Council members Kriss Worthington and Jesse Arrequin, the resolution warned of the severe threat the closure would pose to the lives and safety of residents of Berkeley and other nearby communities, noting state records show a "very high utilization rate of acute care services" over the past dozen years including more than one million days of patients in Alta Bates hospital beds.
In a California Nurses Association/National Nurses United press conference prior to the vote, nurses, joined by Worthington, Arrequin, and State Senate candidate Sandre Swanson warned of the consequences of the closure.
"When you treat strokes and heart attacks, you learn that time is muscle, time is brain, time is the difference between life and death," said Alta Bates ER RN Bipin Walia.  "We have already seen an increase in patients since the closure of Doctor's San Pablo.  If patients have to travel further to Oakland, 6, 8, and 10-hour waits will be the norm.  We need to keep a full service, acute care hospital" in Berkeley.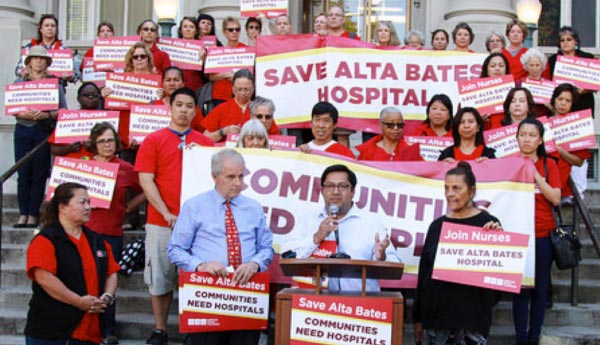 Berkeley Council members Kris Worthington (l) and Jesse Arrequin
With the closure last year of Doctors Medical Center in San Pablo, the only hospital remaining along the I-80 corridor today is a small Kaiser facility in Richmond which is not a full service hospital and has been overwhelmed since Doctors shut its doors.
Many of the former Doctors patients also have been routed to Alta Bates, and would now have to travel even further along congested highways and roads for critical care.
"If Alta Bates closes, people will die. We will work with state, county, and regional officials to keep this hospital open," warned Arrequin. "Sutter can afford to serve the East Bay.  They have been moving services for years – this has nothing to do with retrofitting – it's about profit.  Other communities, San Francisco, San Leandro, have won this fight.  We need to create a regional coalition to win here."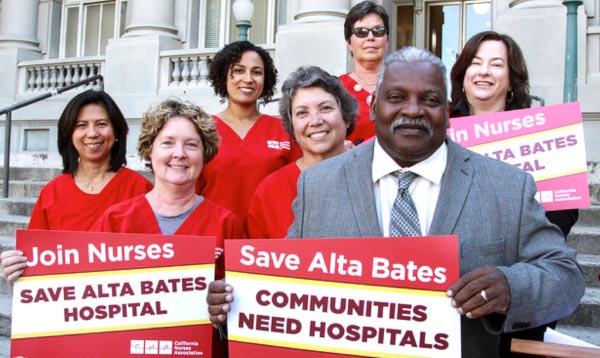 State Senate candidate Sandre Swanson with RNs
"This hospital belongs to the public," said Swanson, a former state Assembly member.  "The promise of a non-profit is to serve the public. The community, city officials, and hospital workers must be engaged in doing a thorough assessment of the needs of this community for a full-service hospital. "
"We call on Sutter to keep this hospital open.  In order to have a vital and healthy community, we need a hospital in Berkeley," said CNA Co-president Zenei Cortez, RN.  Sutter is so cavalier about the community's needs. We won't stay silent. We became RNs in order to fight for our patients.  We are in this fight until we win it."