Press Release
Nurses applaud reintroduction of Senate Medicare for All legislation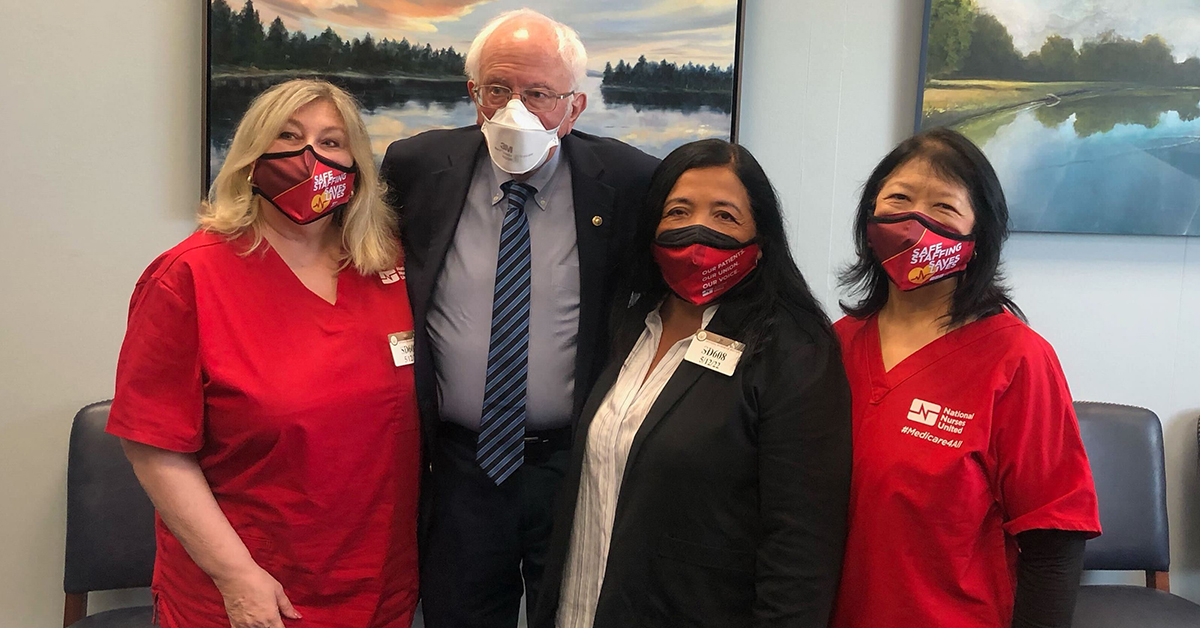 Nurses across the country applaud the reintroduction of Medicare for All legislation in the U.S. Senate. National Nurses United (NNU), the nation's largest union and professional organization for registered nurses, has long supported Medicare for All because health care is a human right.
NNU Executive Director Bonnie Castillo, RN, testified at a Senate Budget Committee hearing on May 12 that Covid-19's impacts on health care are evidence that Medicare for All is necessary now more than ever. The hearing was chaired by Senator Bernie Sanders (I-Vt.), who also introduced the new Medicare for All Senate bill today. Sanders is joined by 14 Senate colleagues as cosponsors.
"For more than two years, nurses across the country have worked on the front lines of the Covid pandemic. We have cared for patients despite atrocious working conditions," Castillo said at Thursday's hearing. "If it was ever in doubt before, this pandemic has shown that our current profit-driven and fragmented health care system does not work. It does not provide quality, therapeutic care to millions of Americans. It does not value and protect its own health care workers. And it is unable to provide a comprehensive pandemic response."
"As registered nurses, our primary responsibility is to protect the health and well-being of our patients," Castillo told the Senate Budget Committee. "Medicare for All is the solution we need to ensure that every patient gets the health care they need."
"The American people understand, as I do, that health care is a human right, not a privilege and that we must end the international embarrassment of the United States being the only major country on earth that does not guarantee health care to all of its citizens," said Sen. Sanders. "It is not acceptable to me, nor to the American people, that over 70 million people today are either uninsured or underinsured. As we speak, there are millions of people who would like to go to a doctor but cannot afford to do so. This is an outrage. In America, your health and your longevity should not be dependent on your wealth. Health care is a human right that all Americans, regardless of income, are entitled to and they deserve the best health care that our country can provide."
The new legislation introduced by Sen. Sanders is another step forward for the movement behind Medicare for All. Castillo was joined by other movement leaders on a panel at Thursday's hearing, and NNU continues to uplift the movement that made the future of Medicare for All possible.
NNU has been excited to see momentum for Medicare for All building at the grassroots level and in the House of Representatives, where a Medicare for All bill currently has 121 co-sponsors. NNU hopes to see that same momentum continue in the U.S. Senate.
National Nurses United is the largest and fastest-growing union and professional association of registered nurses in the United States with more than 175,000 members nationwide.