Press Release
Nurses applaud Labor Caucus and 100+ Congress members for urging Biden to immediately issue Covid emergency temporary standard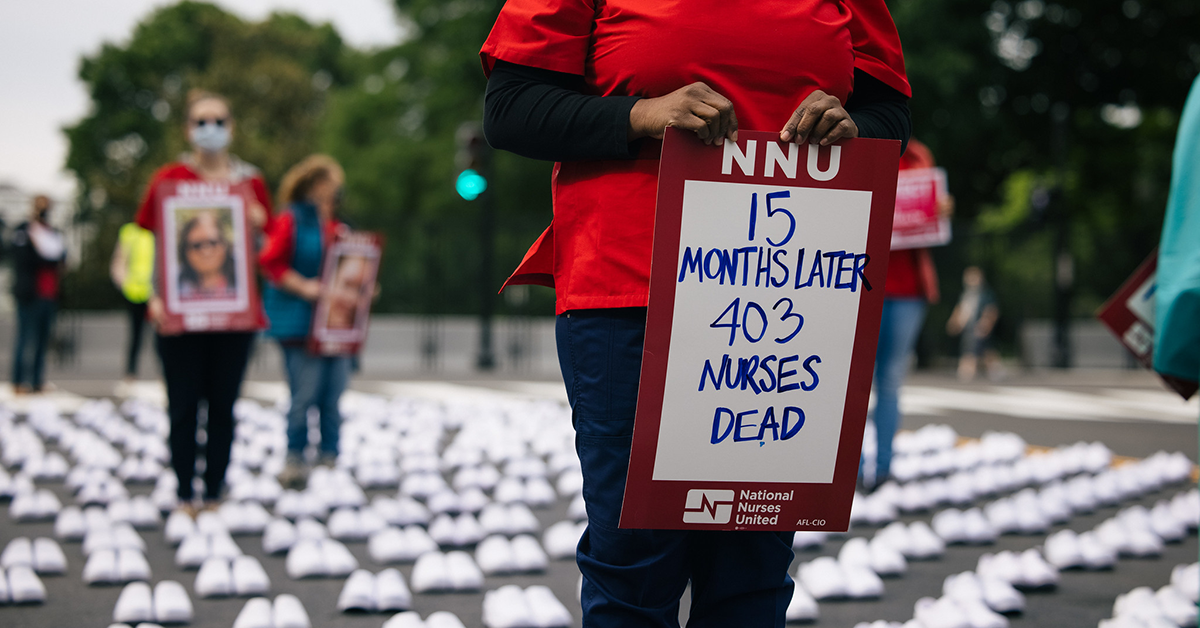 National Nurses United (NNU) today applauded the co-chairs of the Congressional Labor Caucus—Representatives Mark Pocan (D-WI), Donald Norcross (D-NJ), Linda T. Sánchez (D-CA), Debbie Dingell (D-MI), Steven Horsford (D-NV), and Tom Suozzi (D-NY)—for leading more than 100 members of Congress in a letter to President Joe Biden urging him to immediately issue the Occupational Safety and Health Administration's (OSHA) emergency temporary standard (ETS) to protect frontline workers from Covid-19.
More than two months have passed since Biden's original March 15 deadline for an ETS to be issued. Nurses join members of Congress in emphasizing that the delay threatens workers' lives.
"Nurses and other frontline workers across the nation continue to work without the critical protections we need to prevent Covid exposure, illness, and death," said NNU President Deborah Burger, RN. "The failure to protect workers has cost thousands of lives. For more than 15 months, NNU has been advocating for OSHA to issue an emergency temporary standard to ensure that employers protect their workers during the pandemic, a standard that has yet to be issued."
"We are grateful to the co-chairs of the Congressional Labor Caucus and the 106 members of Congress who signed this letter," Burger continued, "for standing with nurses and other frontline workers and demanding the Biden Administration issue the emergency temporary standard without delay."
"Frontline workers were and are our nation's first defense against this pandemic," said Congressman Mark Pocan (D-WI). "From the start of this crisis, workers across industries put their lives on the line to serve the American people and deliver essential services nationwide—even when their employers refused to protect them in their workplace. It is unacceptable that workers still do not have an enforceable emergency temporary standard to protect them from Covid-19. I urge the Biden administration to follow through on his promises and protect every frontline worker now."
"After spending a week in the hospital, I saw firsthand how our frontline workers are stretched too thin with little protection or support," said Rep. Debbie Dingell. "The Administration must immediately issue the OSHA emergency temporary standard — it will save lives. As more people get vaccinated and mask mandates are relaxed, we have a responsibility to protect our nation's frontline workers who still risk their lives every day to support essential services across the country."
The letter was also signed by Representatives Adams, Aguilar, Barragán, Bonamici, Bowman, Boyle, Brown, Bush, Cárdenas, Carson, Case, Castor, Castro, Christ, Chu, Cicilline, Clark, Cleaver  II, Cohen, Connolly, Cooper, Courtney, Craig, Davids, Davis, Dean, DeLauro, DelBene, DeSaulnier, Deutch, Doggett, Doyle, Escobar, Espaillat, Evans, Foster, Garamendi, "Chuy" Garcia, Gomez, Grijalva, Hayes, Higgins, Huffman, Jacobs, Jayapal, Jeffries, Bernice Johnson, "Hank" Johnson Jr., Jones, Kaptur, Keating, Kelly, Khanna, Kildee, Krishnamoorthi, Larson, Lawrence, B. Lee, A. Levin, M. Levin, Lofgren, Lowenthal, Lynch, Maloney, McGovern, Meng, Moore, Moulton, Mrvan, Napolitano, Newman, Norton, Omar, Pascrell, Pingree, Price, Quigley, Raskin, Rochester, Roybal-Allard, Ruppersberger, Scanlon, Schakowsky, Scott, Sires, Soto, Strickland, Takano, Titus, Tlaib, Torres, Torres, Trone, Vargas, Vela, Wasserman Schultz, Waters, Watson, Coleman, Williams, and Yarmuth.
See the full letter here.