Press Release
Nurses Applaud Introduction of H.R. 5223 - Federal Legislation to Prevent Workplace Violence in Health Care Facilities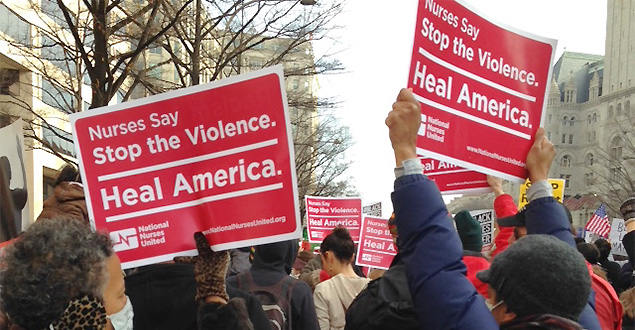 On International Women's Day, National Nurses United Endorses The Health Care Workplace Violence Prevention Act; Urges Members of Congress to Support Bill
Washington, DC—National Nurses United (NNU), the nation's largest union of registered nurses, announced its support for the Health Care Workplace Violence Prevention Act, H.R. 5223, introduced today by Representative Ro Khanna (CA-17).
The bill, introduced with the support of 12 other members of Congress, would mandate that the federal Occupational Safety and Health Administration (OSHA) develop a national standard on workplace violence prevention that would require health care facilities to develop and implement comprehensive facility and unit-specific workplace violence prevention plans. Nurses point out this legislation is critical, given that healthcare workers face rates of workplace violence higher than any other industry. 
"Nurses and other healthcare workers across this country regularly suffer violent incidents while caring for patients at the bedside," said Bonnie Castillo, RN, NNU Executive Director. "Our patients and their families are then also at risk because violence impacts everyone in the vicinity. We know that the frequency and severity of these violent attacks can be drastically reduced through workplace violence prevention plans that are specific to the needs of each facility and unit, and are created with the expertise and input of nurses and other workers.
"We applaud Rep. Khanna for his important leadership in introducing this legislation in Congress that, if passed, will have a dramatic impact on the lives of nurses and other healthcare workers across the country."
The legislation introduced by Rep. Khanna follows the adoption by California OSHA of a groundbreaking health care workplace violence standard that was the result of state legislation sponsored by the California Nurses Association/National Nurses United.
"Health care workers, doctors, and nurses are continuously at risk of workplace violence incidents – strangling, punching, kicking and other physical attacks – that can cause severe injury or death. This is simply unacceptable," said Rep. Khanna. "The Health Care Workplace Violence Prevention Act puts a comprehensive plan in place and is a national solution to this widespread problem modeled after the success seen in California."
The bill emphasizes prevention, training, and worker participation. To ensure the effectiveness of the national standard, the  act defines workplace violence broadly to encompass physical acts of violence, as well as threats of violence, and prioritizes  staffing as a key component in preventing violence from occurring and responding promptly when it does.
Workers in the health care and social assistance industry face extremely high rates of workplace violence. Between 2011 and 2016, as reported in the U.S. Bureau of Labor Statistics Census of Fatal Occupational Injuries, at least 58 hospital workers died as a result of violence in their workplaces. In 2016, the Government Accountability Office found that health care workers at inpatient facilities were 5 to 12 times more likely to experience nonfatal workplace violence than workers overall.
"Right now, health care facilities are not doing enough to prevent these violent incidents. Under the proposed federal standard, hospitals would need to assess and correct for environmental risk factors, patient specific risk factors, staffing and security system sufficiency," said Deborah Burger, RN, NNU co-president.
"There are a number of interventions that can reduce violence in the hospital. For example, affixing furniture and lighting so they can't be used as weapons, maintaining clear lines of site between workers while they are caring for patients, and providing easy access to panic buttons or phones to call for help," Burger explained. "It is imperative that nurses, doctors, and other health care workers, along with security staff and custodial personnel are all involved in the development and implementation of these plans."
The introduction of the legislation takes place on International Women's Day, as a part of an international campaign by Global Nurses United, the international federation of nurses' unions, to bring attention to the workplace violence experienced by nurses around the world. In the United States and around the world, the vast majority of nurses are women.