Press Release
Nurses and Health Care Workers Speak Out Against Palomar Health's Waiver of Safe Staffing Standards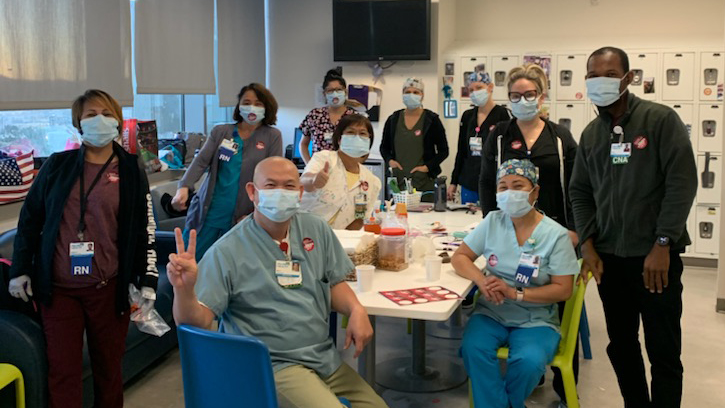 Registered nurses and caregivers will hold a car caravan Tuesday, Dec. 29, 2020 beginning at Palomar Medical Center Escondido and ending at the Palomar Health administration building in downtown Escondido, CA declaring their opposition to the healthcare district's application for a blanket waiver of state-mandated safe nurse-to-patient staffing ratios. The waiver was approved by the California Department of Public Health (CDPH) on Tuesday, December 22, and nurses and other health care workers say it puts patients and staff at risk.
"Many of us have worked here for years, before we had safe staffing ratios and after," says California Nurses Association (CNA) chief nurse representative Sue Phillips, RN. "We know what it's like when we don't have ratios—we become overworked and patients suffer. We are already exhausted; a waiver does not help anyone."
Who: Registered nurses, caregivers, and concerned community members
What: Car caravan protesting waiver of safe staffing ratios
When: Tuesday, Dec. 29 at 12:00 p.m.
Where: Beginning at Palomar Medical Center – Escondido (2185 Citracado Parkway, Escondido, CA 92029), and ending at the Palomar Health administrative building (456 E. Grand Ave. Escondido, CA 92025)
Nurses and caregivers say the hospital's decision is premature, and that Palomar Health has not taken sufficient preventive measures to protect patients from short staffing.
"We must put patient safety first," said Pacita Balcom, CNA and Caregiver and Healthcare Employees Union (CHEU) representative. "The hospital must think outside the box and invest in patient care instead of taking the easy way out."
California's multi-billion hospital industry fought for more than a decade to block the state's landmark safe staffing law, which went into effect in 2004, even though studies have shown the California law has resulted in up to 14 percent fewer patient deaths than in comparable hospitals, assured nurses more time to spend with patients, and kept nurses at the bedside.