Press Release
Nurses and Environmental Activists Plan Climate Action Convergence in Los Angeles Dec. 3
Call for Strong Global Agreement to Address Climate Crisis at United Nations Climate Summit in Paris Next Month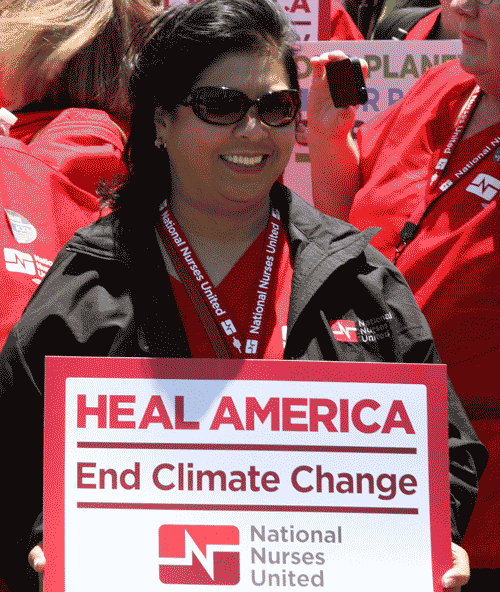 Thousands of nurses and environmental activists will converge in downtown Los Angeles on Dec. 3 to demand a global agreement that reduces greenhouse gas pollution and supports a sustainable energy future at the upcoming United Nations Climate Summit, COP21, to be held in Paris next month.
What: Climate Action Convergence, Rally and March
When: Thursday, Dec. 3, 11 a.m. - 12:30 p.m.
Where: Pershing Square, 532 Olive Street, Downtown Los Angeles
"Nurses in the U.S. and around the world recognize that bold action is needed to challenge the political and economic power of the fossil fuel industry to win health and environmental justice in our communities, to mitigate global warming, and avert a full-scale climate crisis," said National Nurses United Co-President Deborah Burger, RN.  "The climate crisis is a public health crisis – it is already causing immeasurable human suffering and social devastation. Whatever the outcome in Paris, nurses will continue to work in our communities, nationally, and internationally, to build the movement for environmental and climate justice; the health of our communities and our planet depend on it." 
The public health dimensions of the global climate crisis are extensive and far-reaching, nurses say. According to the World Health Organization, more than 8 million deaths worldwide are directly attributable to air pollution, primarily from the burning of fossil fuels and lack of access to clean energy. Infectious and vector-born diseases, such as malaria, dengue, yellow fever, and Lyme, will spike as temperatures increase. Further global warming and climate change will magnify the already catastrophic health impacts of: fossil fuel pollution, hunger and malnutrition due to desertification, and devastation and displacement from severe weather events and sea level rise.
Nurses have responded directly to disasters aggravated by the climate crisis, by providing basic medical care services in the United States, after Hurricanes Katrina, Sandy, and in the Philippines after Typhoon Yolanda/Haiyan through the NNU project, the Registered Nurse Response Network/RNRN.
"South Bay/L.A. 350 is fiercely proud to stand with our brothers and sisters in CNA/NNU who have been treating patients harmed by climate change for years now," said Joe Galliani, of South Bay/L.A. 350. "No one brings more frontline community experience facing the health damage caused by burning fossil fuels than the nurses, and we are united in our urgent call for a transition to 100% renewable power now."
"Big Oil is pushing for delay and inaction and they are buying off many of our politicians. We are marching to show that our communities are already suffering and cannot wait," said Bahram Fazeli, Research and Policy Director, Communities for a Better Environment. "We need a strong global agreement, and we are also moving forward with community-driven measures to end our dependency on fossil fuels and protect the health of our communities, especially those that are the most vulnerable to environmental pollution, including our children and our elders."    
National Nurses United has been engaged in a range of environmental justice issues including actively opposing the Keystone XL Pipeline and the Trans-Pacific Partnership, which threatens to undermine environmental protections. Nurses are active in the campaign for a moratorium on fracking in California, Maryland, North Carolina, and Texas, and continue to protest the extraction, transport and stockpiling of dangerous fuels throughout the country. In Illinois, nurses have joined with other community activists to demand closure of a pet coke storage facility causing harmful health impacts in South Chicago. Nurses in San Luis Obispo, Ca. are leading a coalition opposing the "bomb trains" that would transport highly volatile crude oil through their community and nurses in Oakland, Ca. are part of an effort to stop the transport of coal in open trains from Utah to a planned terminal in the Port of Oakland.
The convergence is endorsed by numerous organizations including 350.org, Sierra Club, Food & Water Watch, Courage Campaign, East Yard Communities for Environmental Justice, MLK Coalition of Greater Los Angeles, Amalgamated Transit Union, Los Angeles for Bernie Sanders, A3PCON/Asian Pacific Planning and Policy Council-Environmental Justice Committee, SoCal 350 Climate Action, Tar Sands Action Southern California, South Bay/L.A. 350, Progressive Christians Uniting, Trade Unions for Energy Democracy, and Friends of the Earth.