Press Release
Registered nurses and community members to hold car rally and caravan to demand Olympia Medical Center remain open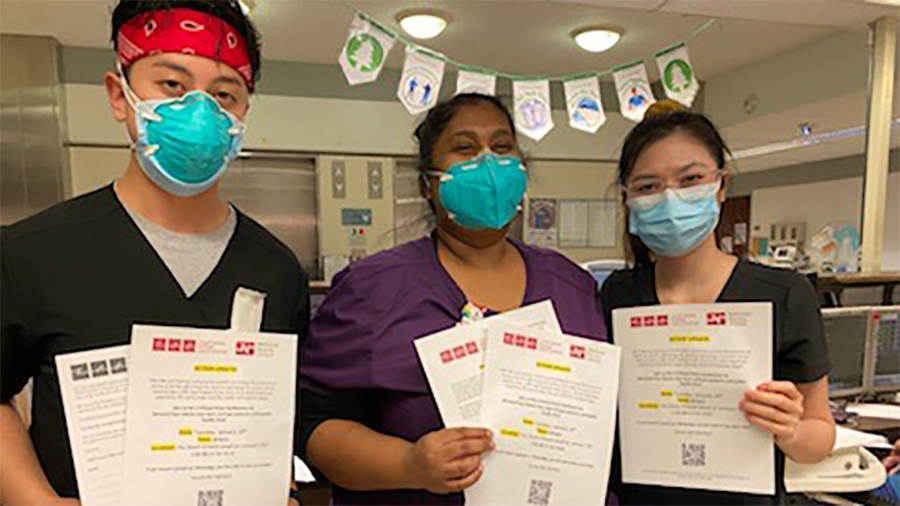 Registered nurses and concerned community members will hold a car rally and caravan on Saturday, March 6, 2021, to demand that Olympia Medical Center remain open as Los Angeles County continues to face a serious public health crisis, announced California Nurses Association (CNA) today.
"It is not only immoral and reprehensible to close a hospital in the midst of a pandemic, it is also dangerous," said Belma Hartono, RN who has worked at Olympia for 40 years. "If Olympia Medical Center should close, it will be an immense loss for the Black, Latinx patients, and seniors who have suffered disproportionately from Covid. The closure of this hospital will undoubtedly result in the unnecessary loss of life."
Alecto Healthcare Services sold the hospital to UCLA Health at the beginning of the year. On New Year's Eve, Alecto announced that the hospital would suspend all patient services after March 31, 2021.
Both the Los Angeles City Council and the Los Angeles County Emergency Services Commission (EMS) have passed resolutions calling for the hospital to remain open during this crisis. The commission warned that closing the hospital would lead to longer wait times for ambulance and emergency life-saving services.
Councilmembers Nithya Raman and Mark Ridley-Thomas released a joint statement calling on Alecto Health Services and UCLA Health to reach a "timely resolution" for continuing care at Olympia Medical Center.
"Now is not the time to consider any reduction in emergency services capacity in Los Angeles," said Raman. "Now is not the time to lay off hundreds of health care workers who have gone above and beyond and risked their lives during this pandemic."
What: Car rally and caravan to demand Olympia Medical Center remain open
When: March 6, 2021, Saturday, 8 a.m.
Where: La Brea Tar Pits Museum
5801 Wilshire Blvd, Miracle Mile Los Angeles, Calif.
Olympia and UCLA nurses met with officials at UCLA, urging them to continue operating the hospital. However, UCLA was unwilling to continue operating Olympia.
"UCLA is a taxpayer-funded institution, and UCLA Health's own mission statement claims it is committed to healing humankind and alleviating suffering," said Cathy Kennedy, RN and president of CNA. "It is clear that allowing Olympia Medical Center to close in the midst of an unprecedented medical crisis will increase suffering. We must demand that UCLA move quickly to keep the doors of this hospital open."