Press Release
Nurses and caregivers reach tentative contracts with Palomar Health, strike planned for 6/23 averted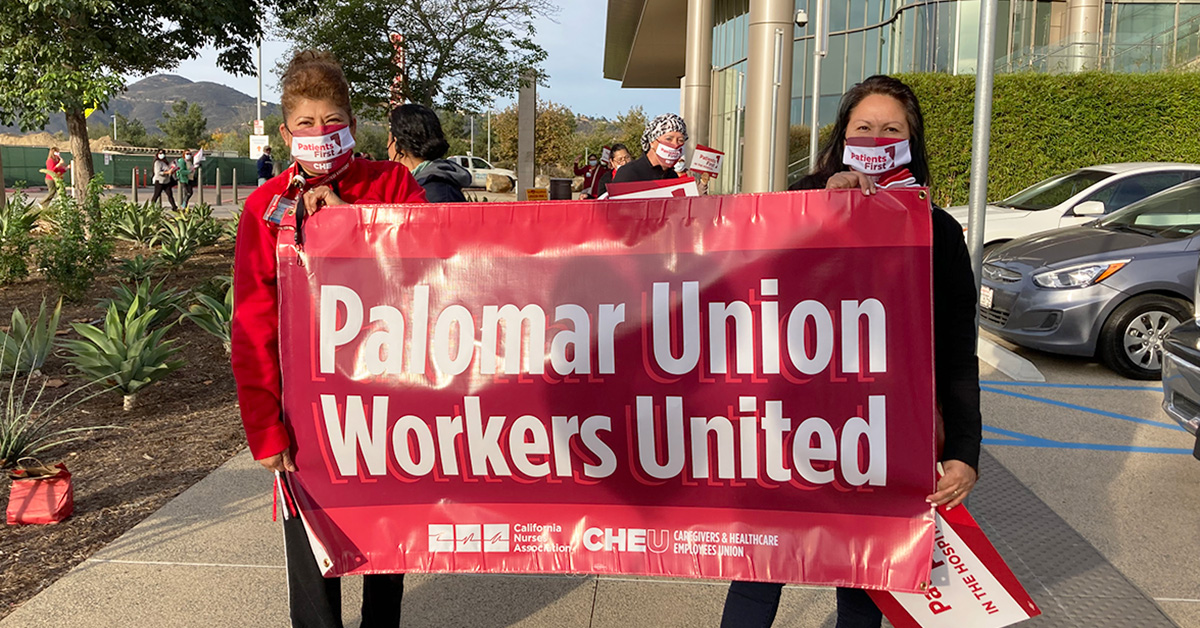 Registered nurses and caregivers working at Palomar Medical Center Escondido and Palomar Medical Center Poway have reached tentative contract agreements today with their employer, Palomar Health, averting a one-day strike by all 3,000 health care workers originally planned for Thursday, June 23.
Nurses, who are represented by the California Nurses Association (CNA), and ancillary caregivers, represented by the CNA-affiliated Caregivers and Healthcare Employees Union (CHEU), had been negotiating for fair contracts for more than 14 months and were prepared to strike over Palomar management's bad-faith bargaining and numerous other egregious violations of labor law.  
The health care workers say that it took the threat of a massive strike to force Palomar management to the bargaining table in earnest. The agreements are pending ratification; nurses and caregivers say they look forward to sharing details about the ways their new contracts address some of their most pressing patient care concerns, such as ensuring safe staffing for the benefit of both patients and workers, protecting the health and safety of employees, and recruiting and retaining RNs and caregivers.
California Nurses Association represents around 1,300 registered nurses at Palomar Health hospitals. The Caregiver and Healthcare Employees Union, an affiliate of CNA, represents around 1,700 ancillary caregivers.
California Nurses Association is an affiliate of National Nurses United, the largest and fastest-growing union and professional association of RNs in the country, with more than 175,000 members nationwide.