Press Release
Nurse leader to testify on Medicare for All Act (H.R. 1384) at hearing scheduled in powerful House Energy and Commerce Subcommittee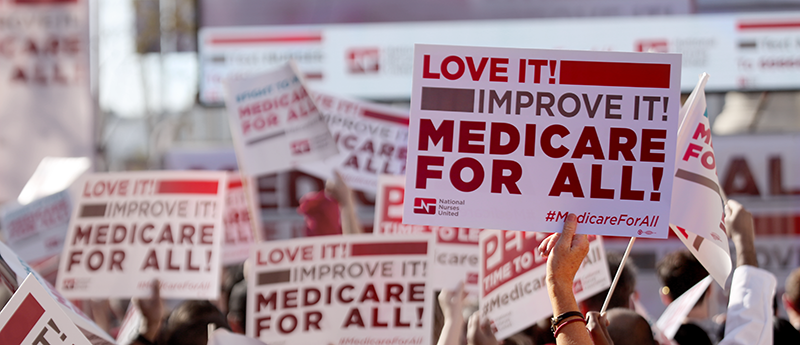 RNs celebrate year of unprecedented grassroots organizing to advance Medicare for All
National Nurses United (NNU) President Jean Ross, RN will testify in support of the Medicare for All Act of 2019 (H.R. 1384) before the Health Subcommittee of the Energy and Commerce Committee in the U.S. House of Representatives at a critical hearing on Medicare for All on Dec. 10.
"Nurses are on the front lines every day, caring for patients all across this country who are delaying lifesaving care, having to choose between rent and medication, and going bankrupt because they can't afford their medical bills," said Ross. "As patient advocates, we are pleased the subcommittee will hear directly from nurses about why it's so important to provide quality, affordable healthcare to everyone with Medicare for All."
What: Energy and Commerce Hearing on Medicare for All Act (H.R. 1384)
Where: 2322 Rayburn House Office Building, Washington, DC
When: Tuesday, December 10, 2019 at 10:30 am
Representatives for National Nurses United are available for interviews before or after the committee hearing.
"We are grateful to Chairwoman Anna Eshoo for inviting NNU to offer our expert testimony on this legislation that will save our patients' lives," said NNU Executive Director Bonnie Castillo, RN. "NNU nurses have been leading the Medicare for All movement for decades. Through this testimony, we are honored to be a voice for our patients, our colleagues, and our communities on the importance of health care as a human right."
With over 44 million patients uninsured, say nurses, the current health care system in the United States is ineffective, inefficient, and outrageously expensive. According to nurses, it is time to remove the profit motive in health care to resolve the inefficiencies and to guarantee quality health care to every person living in the United States.
The Medicare for All Act of 2019 improves and expands the overwhelmingly successful and popular Medicare program so that every person living in the United States has guaranteed health care with comprehensive benefits.
This will be the fourth hearing on Medicare for All this year in the U.S. House of Representatives. Previous hearings were held in the House Rules Committee, the House Budget Committee, and the House Ways & Means Committee.