Press Release
NNU Endorses Bryan Caforio, Medicare for All Advocate for Congress in Northern LA County District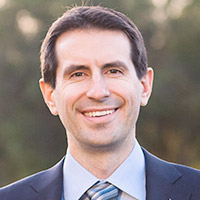 Citing his support for Medicare for all, National Nurses United (NNU) today announced its endorsement of Bryan Caforio for Congress in California's 25th Congressional District, which covers parts of northern Los Angeles and parts of Ventura County.
"With his advocacy for a healthcare system based on patient need, not corporate profits, Bryan Caforio will be a strong addition to the growing caucus of Medicare for all, single payer supporters in Congress," said Deborah Burger, RN. Burger is co-president of both NNU and the California Nurses Association, which is affiliated with NNU.
"I'm incredibly honored to stand with the National Nurses as we fight to bring high quality healthcare to every person, Caforio said. "We can't depend on career corporate politicians to look out for patients' well-being, and that's why we need the nurses to continue leading the charge for Medicare for All. I'm proud to have their support, and grateful for all the work they do furthering our progressive values."
"As a nurse at Antelope Valley Hospital, I've seen firsthand Bryan Caforio's dedication to improving our healthcare system," said John Michael De La Cerda, RN, a CNA member at Antelope Valley Hospital
"Whether it was marching with us on the picket line as we fought for patient safety and fair wages, or in leading the charge for Medicare for All, Bryan has always been by our side. I'm proud to support Bryan in his campaign for Congress, and excited to get a healthcare champion like Bryan into office as our community's representative," De La Cerda said.
Caforio is challenging incumbent Rep. Steve Knight. Caforio has also been sharply critical of GOP efforts to roll back current health coverage, noting, "I will not stand by and watch Washington politicians take health care away from tens of millions of people, including more than 46,000 here in California's 25th District."