Press Release
NNU Applauds Senate Passage of Toxic Exposure Legislation Expanding Health Care for Veterans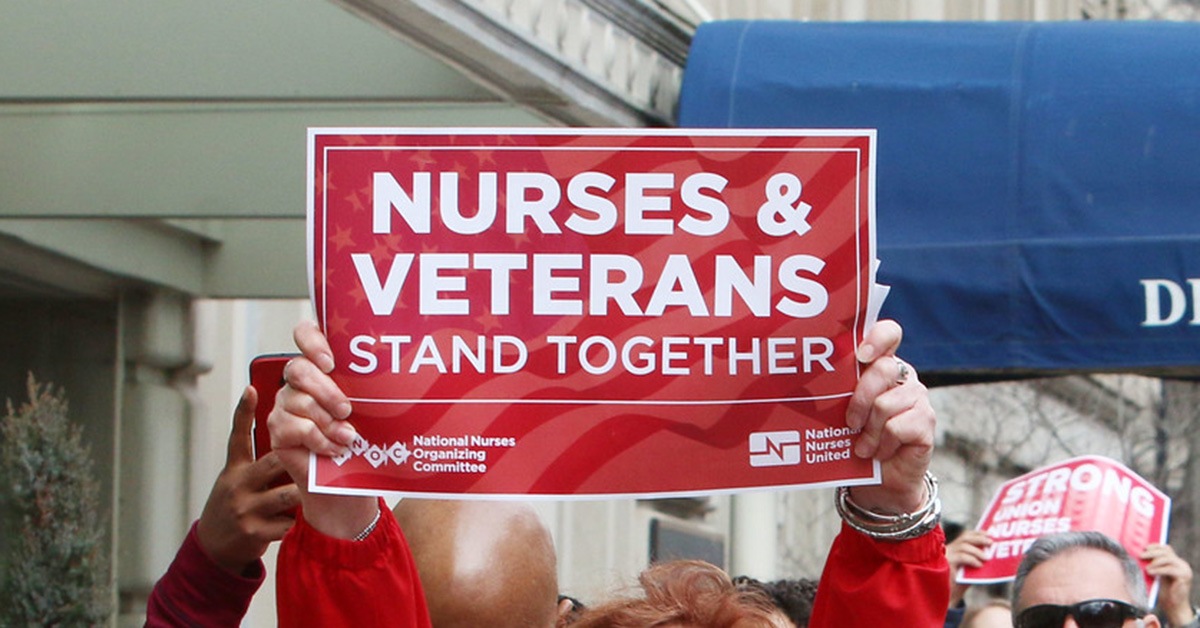 The SFC Heath Robinson Honoring Our PACT Act expands VA health care and benefits to 3.5 million veterans exposed to toxins
National Nurses United (NNU), the nation's largest union and professional association of registered nurses, today applauded the U.S. Senate's passage of the Sergeant First Class Heath Robinson Honoring Our Promise to Address Comprehensive Toxins (PACT) Act, legislation that expands high-quality Veterans Health Administration (VA) health care and benefits to an additional 3.5 million veterans.  
"As nurses who are on the front lines of providing first-class quality care to veterans, we know how critical VA health care services are to our patients, and we are so glad to see the Senate pass legislation that will enable millions more veterans to access the safe and therapeutic care we provide," said Irma Westmoreland, RN, chair of NNU's veterans' division.
"Study after study demonstrates that the care received by veterans in the VA is best suited to the unique challenges of the veteran population," Westmoreland added.
The PACT Act, as it is known, would be the most comprehensive toxic exposure package ever passed by Congress. In addition to expanding access to health care and benefits for veterans and their families, the bill streamlines the VA's review process for establishing toxic exposure presumptions, ensuring that more veterans and their families can access those benefits in a timelier manner. The act also establishes a presumption of service connection related to burn pits or airborne-hazard exposure for 23 respiratory illnesses and cancers and creates a presumption of exposure to radiation for veterans who participated in cleanup activities across the world.
This legislation will help the VA connect veterans to the health care they deserve by improving data collection between the VA and the Department of Defense and requiring the VA to conduct outreach and provide resources to those veterans who have been exposed to toxic substances, ensuring that affected veterans and their families know about the health care and benefits now available to them.
"Nurses understand that we have a sacred obligation to care for those who have sacrificed so much," said NNU President Jean Ross, RN. "We are proud to celebrate this historic moment alongside the veterans, veterans' service organizations, and members of Congress who have pushed to make this a reality."
"We urge the House to pass the Senate version of this critical bill immediately so it can be sent to President Biden for his signature," Ross continued, "to ensure more veterans have access to that first-class care."
National Nurses United is the largest and fastest-growing union and professional association of registered nurses in the United States with more than 175,000 members nationwide.