Press Release
National Nurses United applauds OSHA for sending Covid-19 permanent standard for health care workers to OMB for review, urges OMB to take prompt action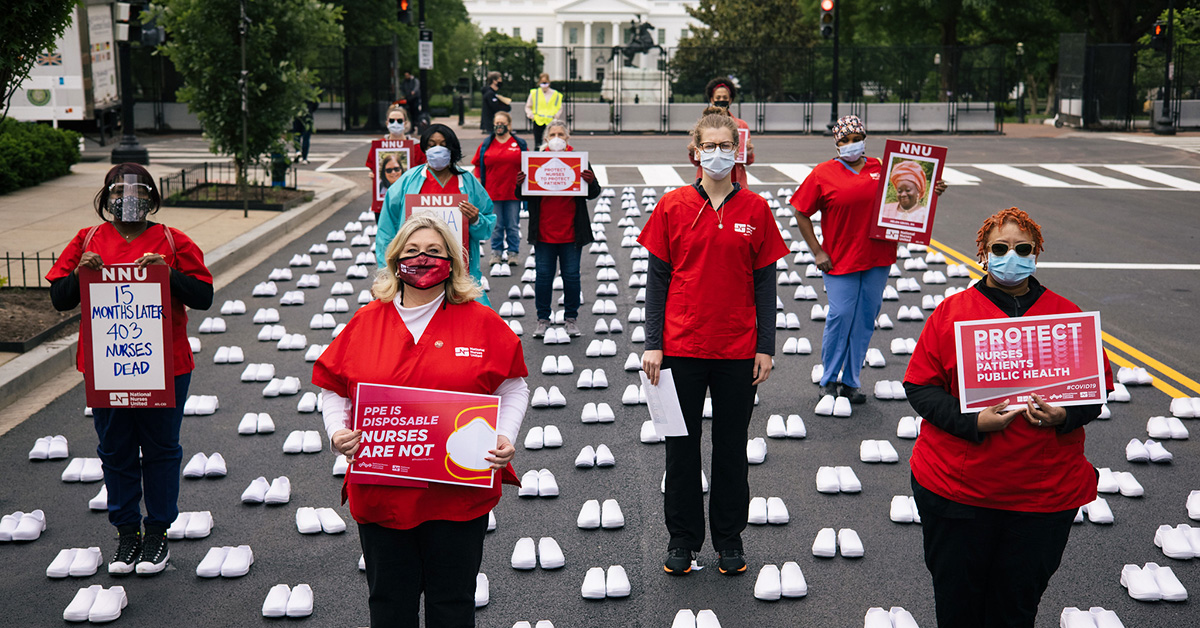 OSHA sends standard to protect nurses and other health care workers from Covid-19 to Office of Information and Regulatory Affairs at the Office of Management and Budget
National Nurses United (NNU) applauds the Occupational Safety and Health Administration (OSHA) for sending its Covid-19 permanent standard to the Office of Information and Regulatory Affairs (OIRA) at the Office of Management and Budget (OMB) for review today, and urges OIRA to complete its review promptly so the standard can be issued without delay. A permanent standard would require employers to protect nurses and other health care workers from occupational exposure to Covid-19.
"Protecting nurses and other health care workers is of paramount importance as we face an increase in Covid-19 hospitalizations, in addition to high and increasing influenza and respiratory syncytial virus (RSV) hospitalizations," said NNU President Deborah Burger, RN. "We applaud OSHA for fulfilling its commitment to issue a permanent standard for health care workers, and we strongly urge OIRA to complete its review of the permanent standard as quickly as possible. The pandemic is not over. We need a permanent standard to ensure that health care employers will protect all health care workers so they can do their jobs safely and so patients can get the care that they need."
The Covid-19 pandemic is not over. New, more immune-evasive variants, such as BQ1/1.1, BF.7, and XBB, continue to circulate; bivalent booster vaccination rates are extremely low; and few public health measures remain in place. Covid-19 hospitalizations have increased by 29 percent over the last 14 days and four states have seen triple-digit percent increases during that same time period. Nurses, other health care workers, and their patients remain at risk of Covid exposure, infection, illness, and death because their employers continue to fail to fully protect them. NNU's December 2022 survey of more than 2,800 nurses in 46 states and the District of Columbia found that only 66 percent of nurses report wearing a respirator for every encounter with a Covid-positive patient, even though it is scientifically clear that Covid-19 is airborne and respiratory protection is required. Only 34 percent of nurses report that they are informed of Covid exposures in a timely fashion, even though prompt testing and isolation are essential to preventing transmission.
"As of Dec. 7, more than 5,500 health care workers have died of Covid, including nearly 500 nurses," said Burger. "And many nurses continue to experience the devastating impacts of long Covid. This is why we need a permanent standard and why we must continue to maintain multiple measures of infection control, including masking, vaccinations, testing, ventilation, contact tracing and notification, proper isolation, and quarantining. We're all in this together."
The permanent Covid standard should include the following protections: screening and testing of patients, visitors, and health care workers; isolation of patients with suspected or confirmed Covid; optimal personal protective equipment for health care workers caring for patients with suspected or confirmed Covid, including powered air-purifying respirators, isolation gowns, and gloves; exposure notification for health care workers; and paid leave for health care workers who are exposed to or infected with Covid.
Since the beginning of the pandemic, NNU has been strongly advocating for workplace protections, including filing a petition with OSHA on March 4, 2020, seeking an emergency temporary standard (ETS), sending Congress a petition with a quarter of a million signatures demanding that lawmakers ensure that nurses and health care workers are immediately given the protections they need to avoid exposure to Covid, and working extensively with the Biden transition team and the Biden administration to urge prompt action on an OSHA standard. President Biden responded by issuing an executive order on Jan. 21, 2021 (the day after he was sworn into office), to protect the health and safety of workers from Covid-19. OSHA issued the ETS on June 21, 2021.
In November 2021, NNU urged OSHA to adopt a permanent standard. On Dec. 16, 2021, NNU, along with more than 40 unions and other organizations as well as more than 6,300 individuals, signed and delivered a petition to OSHA urging the agency to adopt a permanent standard. OSHA committed to issue a permanent standard following the filing of a lawsuit in federal court by NNU and allied unions and labor organizations in January 2022, a national day of action by nurses around the country on Jan. 11, 2022, and support for NNU's demand for a permanent standard by 115 members of Congress and 21 senators that same month. NNU testified at an OSHA hearing on April 27, 2022, about the importance of protecting health care workers who are still at significant risk of Covid exposure and urged OSHA to issue a permanent standard that requires employers to protect health care workers from Covid-19 and improves upon the existing ETS.
Recently released data from the U.S. Centers for Disease Control and Prevention (CDC) underline the fact that nurses and other health care workers have been disproportionately impacted by Covid-19 exposure, infection, and death in their workplaces. Workers in health care practitioner and technical occupations, which includes registered nurses, experienced a significantly higher proportion of deaths due to Covid than other causes compared to all workers combined in 2020.
---
National Nurses United is the largest and fastest-growing union and professional association of registered nurses in the United States with nearly 225,000 members nationwide.