Press Release
Newsom's Veto of AB 1014 Puts Patients and Communities At Risk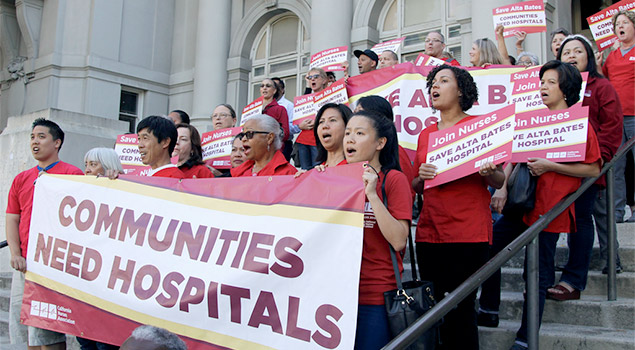 Governor Gavin Newsom's decision to veto AB 1014, a modest bill to require hospitals to give more notice before closing hospitals, is an appalling act of political cowardice. Communities and patients are safer when hospitals stay open, the California Nurses Association/ National Nurses United announced today.
"With this veto, Governor Newsom is abandoning both patients and communities. Closures force patients to travel much farther for critical care and that puts lives in grave danger," said CNA/NNU President Deborah Burger, RN. "Hospital closures weaken already strained emergency response networks that are critical when natural disasters hit, such as wildfires or earthquakes."
AB 1014, introduced by Assemblymembers Patrick O'Donnell, William Brough, and Buffy Wicks, would have required hospitals and health facilities to provide the public a 180-day notice before downgrading their services or closing. It would have given communities a reasonable time to work towards an alternative solution to closure or negotiate a solution.
The bill Governor Newsom has discarded would give local communities and prospective buyers more advance notice to provide alternative solutions to keep all Californians safer.
Instead we will see more hospital deserts, as have occurred in both rural and urban areas -- such as exists today in West Contra Costa County following the closure of Doctors Medical Center in 2015. And now Sutter Health is threatening to exacerbate that crisis with the threatened closure of Alta Bates Medical Center in Berkeley, which will put hundreds of thousands of East Bay Area residents at serious risk along one of the state's most congested highway corridors.
"As consolidation and profit-seeking CEOs dominate the health care landscape, we are seeing an increase in hospital closures. These closures are a death sentence for many Californians because when these facilities leave, they do not return," said Stephanie Roberson, CNA's director of government relations. "We are concerned about the posture of this governor as he is clearly choosing what the corporate hospital industry wants over what is best for our communities and patients."
Many of the closures, such as Alta Bates, are carried out by multi-billion dollar hospital corporations or hedge fund speculators as we have seen elsewhere in California.
"By vetoing this important bill, Governor Newson is demonstrating craven submission to wealthy hospital corporations and Wall Street speculators – at the expense of all Californians," Burger said.