Press Release
Nation's Largest Nurses Union to Lead Action at White House During Nurses Week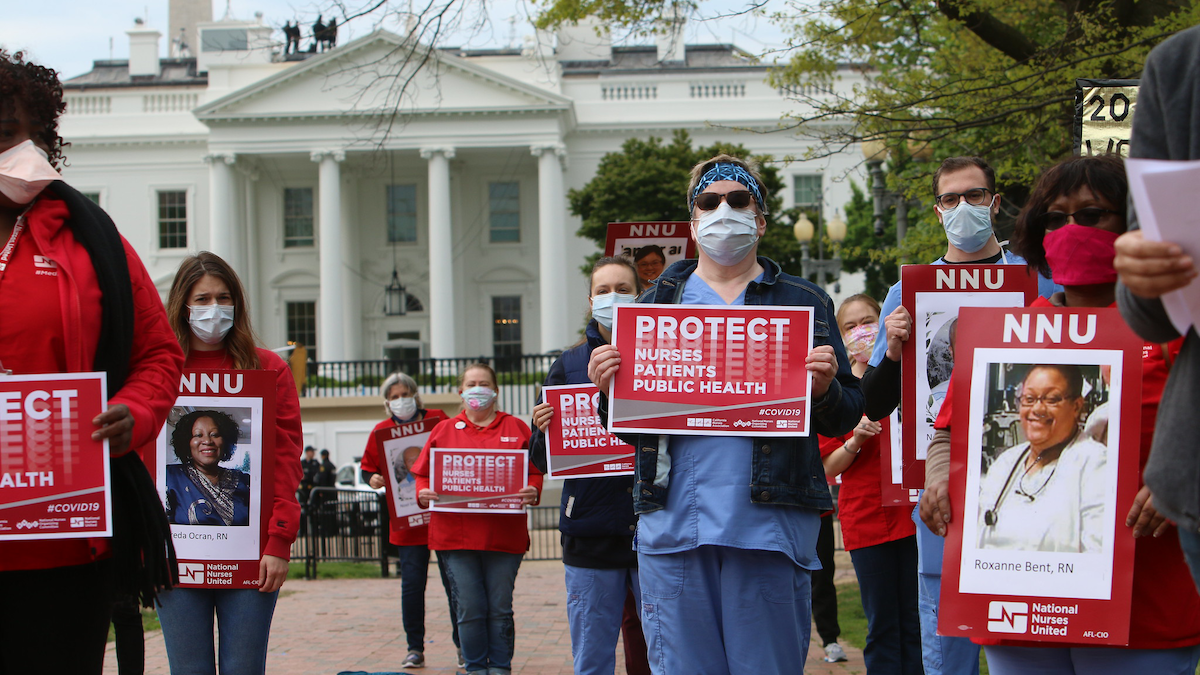 On Thursday, May 7th at 10:00 a.m. EST, nurses from National Nurses United (NNU), the nation's largest and fastest-growing nurses' union representing 155,000 nurses across the country, will lead an action outside the White House to honor the nurses who have died from COVID-19 and demand that the administration do more to protect frontline health care workers around the country.
Nurses will place shoes near the White House, one pair of shoes to represent every nurses' life lost due to insufficient PPE in the COVID pandemic. Nurses will then read out loud the names of their colleagues who have died during this pandemic, and several will give remarks.
This action is just one of many events NNU has planned for Nurses Week (May 6 - 12), all of which are intended to demand optimal COVID-19 protections for nurses.
WHO: Nurses from National Nurses United 
Stephanie Simms, RN from MedStar Washington Hospital Center. 

Several other D.C.-area nurses who are treating COVID-19 patients will be available for interviews as well as NNU's leadership. 
WHAT: Action outside of White House, Lafayette Park, 16th and H St. NW 
WHEN: Thursday, May 7th, 10 a.m. EST
All interested attendees should RSVP to press@nationalnursesunited.org OR Rebecca Sharer at rsharer@fenton.com 
NOTE: If you plan on sending a camera crew or reporter to cover the action, please abide by social distancing standards. Nurses continue to work in hospitals and are directly in contact with those who have contracted COVID-19 on a daily basis. Guidelines and restrictions for interacting with nurses will be available on sight.
Photos of the event are available here:  https://flic.kr/s/aHsmN5aRpD
National Nurses United is the largest and fastest-growing union and professional organization of registered nurses in the United States, with more than 155,000 members nationwide.