Press Release
National Nurses United Statement on Potential Reopening of Affinity Medical Center Under New Operator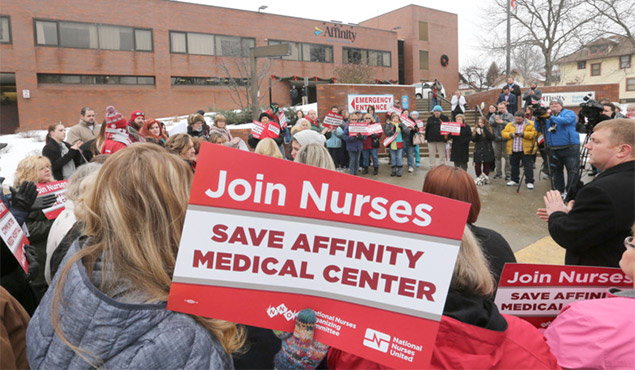 National Nurses Organizing Committee-Ohio/National Nurses United (NNOC/NNU) today applauded the announcement of a move to reopen the former Affinity Medical Center, now known as Massillon Regional Medical Center, under new operator Paramount Matrix Healthcare.
NNOC/NNU emphasizes that full services must be restored to the public by Paramount as quickly as possible, especially given the ongoing opioid crisis in Stark County—where 1,748 emergency department and urgent care visits for opioid overdoses, with 163 unintentional opioid deaths, were reported in 2016 and the first half of 2017. Paramount should also be held accountable for hiring back experienced Affinity staff, say nurses, who know best how to care for the Massillon community.
NNOC/NNU congratulates Affinity RNs for their steadfast advocacy, along with a broad community coalition, on campaigning against the unconscionable decision by former owner Qourum Health Care, a spin off of the notorious Community Health Systems (CHS), to close the hospital, leaving patients at risk.
CHS has a long, disgraceful history of ignoring the interests and well being of the patients who count on them for care, as well as a history of violating federal law and nurses' democratic rights. RNs stood strong, in the face of this corporate disregard for public health and safety, and their activism helped secure a temporary restraining order forcing Quorum to delay their original closure date—and then ultimately to sell the property to the city, for $1, paving the way for its current potential to reopen.
Nurses are proud to have stood resolute, with the Massillon community, on the attack on healthcare in Stark County and will continue to be vocal healthcare advocates, insisting on full rights for the RNs and other hospital staff at Massillon Regional Medical Center.