Press Release
National Nurses United Endorses Ilhan Omar for Congress in Minnesota's 5th District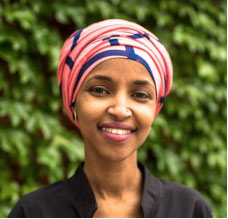 National Nurses United, the nation's largest union of registered nurses, today announced its endorsement of state legislator Ilhan Omar for U.S. Congress to represent Minnesota's 5th district.
 
"Ilhan Omar is a champion for economic and social justice and a fighter for all Minnesotans," said Jean Ross, RN and Co-President of National Nurses United, which represents over 150,000 RNs across the United States.  "Ilhan understands the health care crisis in this country and the urgency in moving to a single payer, Medicare for All healthcare system that guarantees health care for everyone in this country, and that's an important reason why registered nurses are behind her 100%."
 
"Ilhan is campaigning for economic justice for working families, environmental justice so we have clean air and water and save the planet from climate catastrophe, and reforming our criminal justice system-- all issues of importance to our members, the bedside nurses in our hospitals and clinics, who are advocates for our patients and our communities," Ross continued.
 
"Minnesota nurses support State Rep. Omar for her strong record in the Minnesota legislature of advocating for workers' rights and the rights of everyone in our communities," added Mary Turner, RN, President of the Minnesota Nurses Association, NNU's affiliate in Minnesota. "We are excited to support Ilhan who shares nurses' values of caring, compassion and community."
 
"I'm proud to have earned this endorsement," Omar said.  "Nurses are America's most trusted profession.  I'm proud to have stood with Minnesota nurses on the picket lines and in the fight for better protections.  Nurses organize with compassion and that's the type of politics we need.  
 
"Our campaign has been endorsed by the DFL, unions, elected officials across the district, progressive organizations and on Tuesday we would be honored to earn the endorsement of the Congressional District 5 residents," Omar continued.
 
In 2016, Ilhan Omar became the first Somali-American, Muslim legislator in the United States when she was elected to the Minnesota state House of Representatives.  In her current run for the U.S. House of Representatives, she has been endorsed by the Democratic-Farmer-Labor Party (DFL).  Minnesota's primary election takes place on Tuesday, August 14.