Press Release
MountainView Hospital RNs Set Action Tuesday, Voice Safety Concerns Labor and Delivery Patients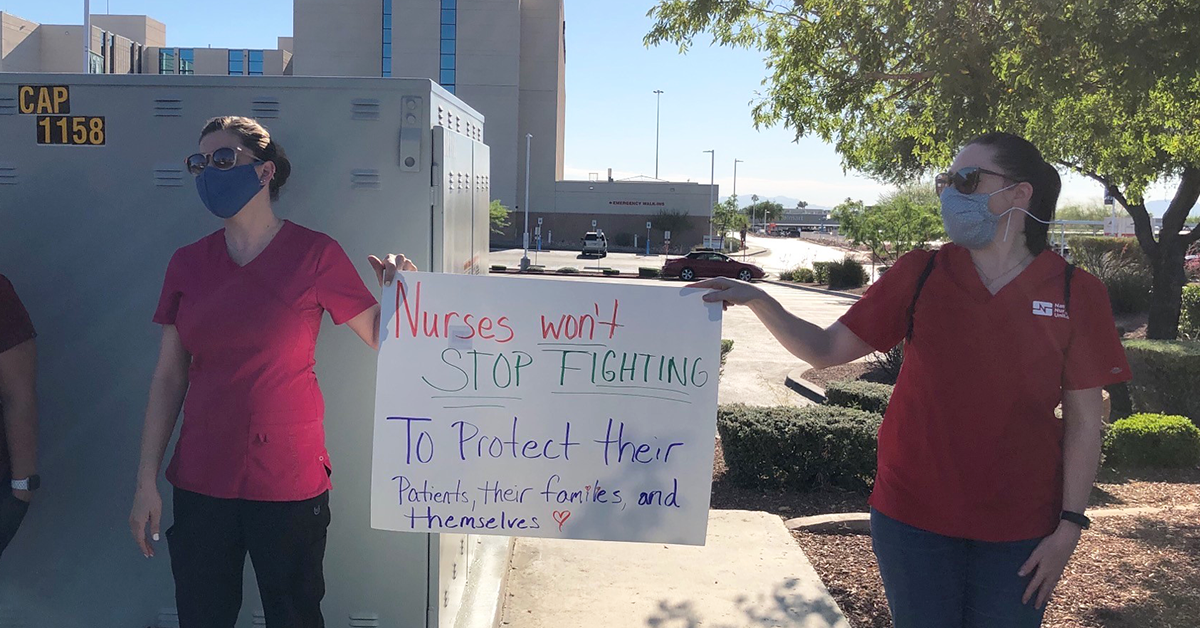 Voicing alarm at what they say is often unsafe conditions for laboring patients and babies, registered nurses will hold a socially distanced public action on Tuesday morning Aug. 10, at HCA's MountainView Hospital in Las Vegas, announced National Nurses Organizing Committee-Nevada/National Nurses United (NNOC/NNU) today.
    What: Socially distanced public action by MountainView Hospital RNs
    When: Tuesday, Aug. 10, 8:00 a.m. to 9:00 a.m.
    Where: MountainView Hospital, 3100 N. Tenaya Way, Las Vegas  
Staffing in labor and delivery is so unsafe at times, nurses say they are left with deciding which laboring patients and babies deserve care first. Nurses have urged management to improve staffing at least 70 times in the past few months.
"No new mother, no family should have to worry whether they will receive the focused care they need when they come to the hospital to bring a child into the world. We are appalled that we cannot guarantee they will have safe staffing at all times for the intensive process of delivering a baby," said MountainView Nicole Taylor RN.
In July, hospital officials sent a message congratulating labor and delivery nurses for "the good work, we had almost record numbers for deliveries, Baby Season is in FULL swing." What they "forgot to mention is how well nurses have done this while being consistently short staffed," said Theresa Cormier, RN.
Charge nurses who provide clinical coordination of nursing care on the unit are frequently having to provide full nursing care for patients, leaving no oversight for other patients if one of the unit RNs is full-time, one-on-one with a patient in active delivery.
RN staffing is often inadequate, nurses say, for patients who need one-on-one critical care, and for patients who are being triaged when first arriving in the hospital.
The latest Covid pandemic surge has made the staffing problems even more acute, say nurses. Covid-infected pregnant patients in intensive care have been at times off fetal monitoring for hours due to inadequate staffing.
"MountainView has had time to prepare for this Covid surge, and here we are yet again short staffed, and patient care is jeopardized," said MountainView RN Melissa Hansvick last week.
"MountainView continues to make decisions that spread already thin resources thinner. These types of decisions put patient safety at risk and call on nurses to work in unsafe conditions," Hansvick said. "MountainView must step up and put patient and nurse safety to the forefront of healthcare."
The nurses note that HCA, the largest hospital corporation in the United States, has more than enough resources to address their concerns. Last year alone, HCA reported $3.8 billion in profits. In the first quarter of 2021, HCA has made $1.4 billion in profits.
National Nurses Organizing Committee represent 944 nurses at MountainView Hospital. NNOC is an affiliate of NNU, the largest union of RNs in the United States, representing more than 175,000 nurses across the country.