Press Release
Members of Congress introduce bill to prevent violence in health care, social service workplaces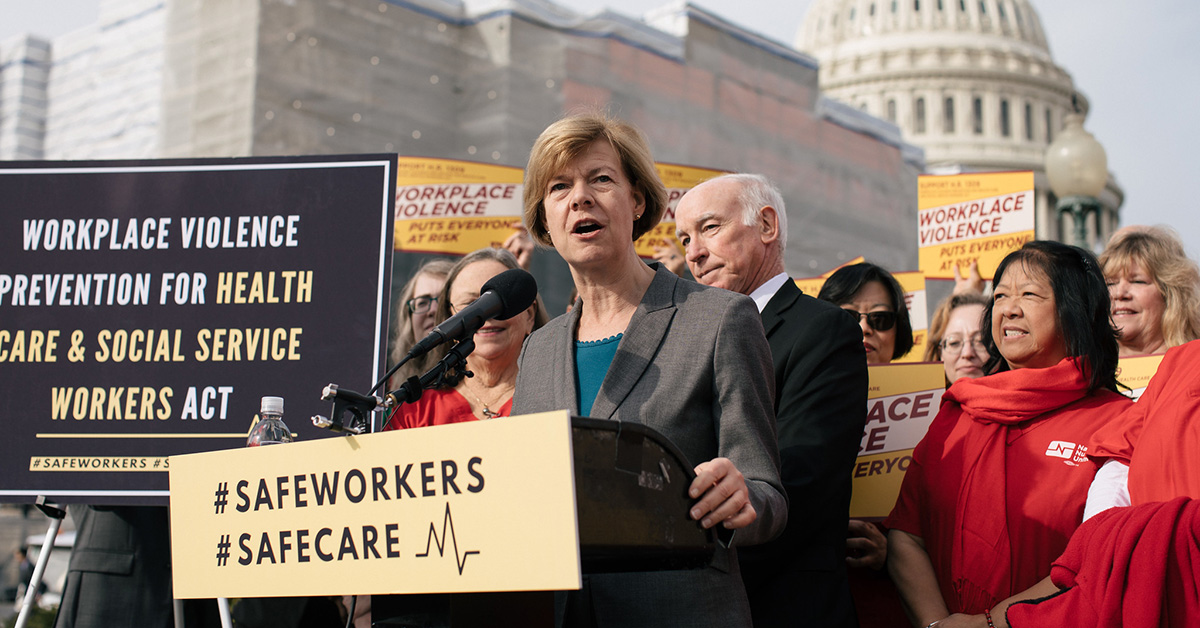 Federal bill addresses epidemic of violence against nurses: more than 80 percent of nurses have experienced at least one workplace violence incident in the past year
Health care is one of the most dangerous fields of work, largely due to workplace violence. In nationwide surveys conducted by National Nurses United (NNU), the nation's largest union of registered nurses, the majority of nurses (81.6 percent) reported having experienced at least one workplace violence incident in the past year. NNU members say this is unacceptable and strongly support passage of the Workplace Violence Prevention for Health Care and Social Service Workers Act, officially introduced in Congress today by Sen. Tammy Baldwin (D-WI) and Rep. Joe Courtney (D-CT).
The bill would mandate that the federal Occupational Safety and Health Administration (OSHA) create a federal standard requiring health care and social service employers to develop and implement comprehensive workplace violence prevention plans. This legislation is especially important given that health care and social service workers face extremely high rates of workplace violence.
A study published in 2021 reported on a survey of nurses, finding that nearly 85 percent of respondents said they experienced more than one type of workplace violence over the previous year. In NNU's April 2022 survey, 48 percent of hospital nurses reported an increase in workplace violence, up from 30.6 percent in September 2021 and from 21.9 percent in March 2021.  
"Violence in our hospitals and clinics has reached epidemic levels," said NNU President Deborah Burger, RN. "Nurses have been punched, kicked, bitten, and choked or threatened with extreme violence. Tragically, some nurses have even lost their lives after being attacked on the job. This is why we urgently need legislative action to hold our employers accountable, through federal OSHA, for having a prevention plan in place to stop workplace violence before it occurs."  
"Our health care and social service workers deserve to work in a safe environment free from violence," said Sen. Tammy Baldwin. "It is unacceptable that our health care workers are subjected to senseless acts of violence in their workplace, and we must do more to protect them. I am proud to introduce this legislation to give our nurses, doctors, health care support staff, and social service professionals on the front lines with long-overdue basic protections, helping address our health care workforce shortage and keep our frontline heroes safe."
"No worker—especially those we rely on for care—should be injured or killed on the job," said Rep. Joe Courtney. "Unfortunately, this workforce endures more violence than any other workforce in America, and rates are rising as employers struggle to fill vacancies in needed health care sectors. If we want to fill vacancies and retain workers, then we must protect workers on the job.
"This legislation would put proven tactics into practice in hospitals and health care settings across the country to prevent violence before it happens," said Courtney. "I'm grateful for the bipartisan coalition—backed by the support of the workers directly affected by this violence—who has worked tirelessly to move this legislation forward."
"We greatly appreciate Sen. Baldwin and Rep. Courtney for introducing the Workplace Violence Prevention for Health Care and Social Service Workers Act to help protect us at work, so we can do our job of caring for you, your loved ones, and our communities," said Burger. "Nurses and social service workers deserve a safe place to work. Going to work should not be a matter of life or death."
The federal legislation is modeled after a groundbreaking California health care workplace violence standard that was the result of state legislation sponsored by California Nurses Association, an NNU affiliate.
More specifics of the federal legislation:
Addresses an epidemic of violence: Workers in the health care and social assistance industry face extremely high rates of workplace violence. 

Between 2011 and 2020, as reported in the U.S. Bureau of Labor Statistics (BLS) Census of Fatal Occupational Injuries, at least 80 hospital workers died as a result of violence in their workplaces.
According to the BLS, the violence-related injury rate for RNs in 2020 was more than four times higher than for workers overall in the same year. 
In 2016, the Government Accountability Office found that health care workers at inpatient facilities were five to 12 times more likely to experience nonfatal workplace violence than workers overall.

Requires federal OSHA to create a federal workplace violence prevention standard mandating employers develop comprehensive, workplace-specific plans to prevent violence before it happens.
Covers a wide variety of workplaces, including 

hospitals, 
residential treatment facilities, 
nonresidential treatment settings, 
medical treatment or social service settings in correctional or detention facilities, 
psychiatric treatment facilities, 
substance use disorder treatment centers, 
community care settings such as group homes and mental health clinics, 
and federal health care facilities such as those operated by the Veterans Administration and the Indian Health Service, as well as 
field work settings such as home care and home-based hospice, and 
emergency services and transport services.

Sets a quick timeline on implementation to ensure timely protection for health care workers.
Sets minimum requirements for the standard and for employers' workplace violence prevention plans, based on the groundbreaking California legislation. These requirements include unit-specific assessments and implementations of prevention measures, including physical changes to the environment, staffing for patient care and security, employee involvement in all steps of the plan, hands-on training, robust record-keeping requirements (including a violent incident log), and protections for employees to report workplace violence to their employer and law enforcement, among other requirements.
---
National Nurses United is the largest and fastest-growing union and professional association of registered nurses in the United States with nearly 225,000 members nationwide.