Press Release
Maryland Consumer Rights Coalition, National Nurses United, legislators, community activists hold media availability to champion protections for patients from medical debt lawsuits, and for expansion of financial assistance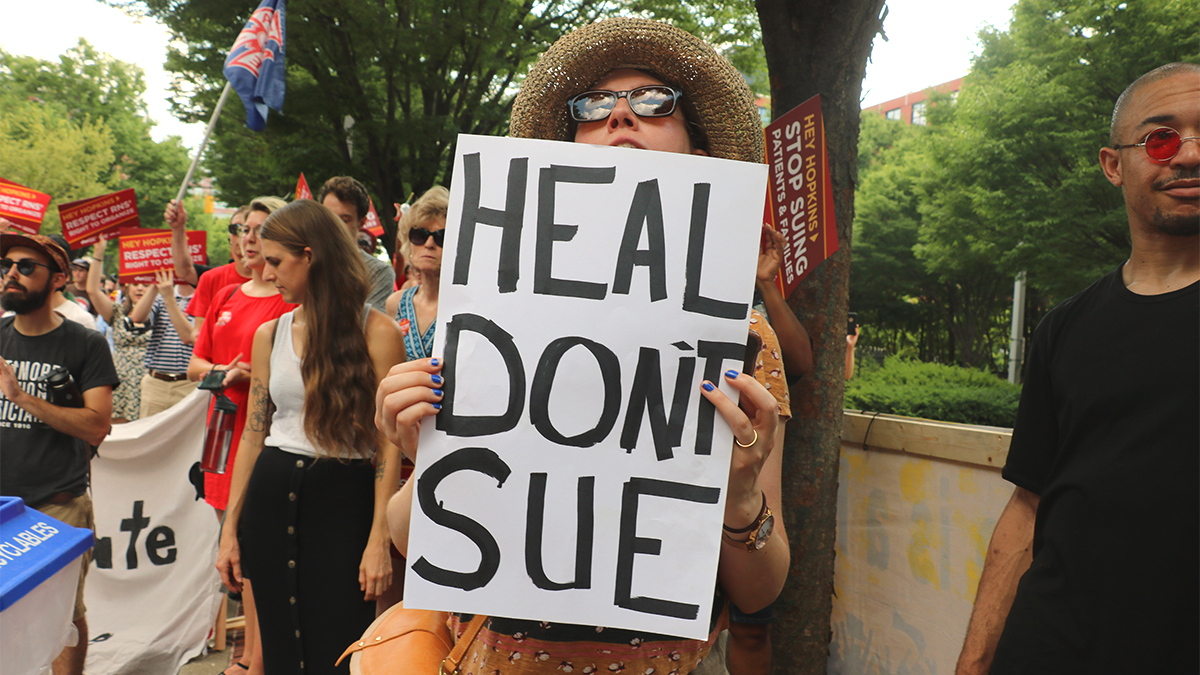 Activists urge passage of new state bills to reform current harmful practices
WHAT: Medical Debtors Protection Act supporters hold media availability event. We must protect patients from devastating medical debt and lawsuits!
Consumer advocates and legislators will gather before bill hearings with patients experiencing medical debt, along with nurse and doctor medical providers

.

Patients are NOT receiving the financial assistance with medical bills for which they're eligible and are more likely to be targeted by debt collectors.

New bills, part of Medical Debtors Protection Act, aim to change that!
WHEN: Friday, Feb. 28, 2020
             12 noon – 12:30PM
WHERE: House Office Building – Room 145
               6 Bladen Street
               Annapolis, Maryland 21401
THE PROBLEM:
Medical debt collection is one of the most predatory practices, often heavily targeting low-income communities of color. Individuals with emergency or medically-necessary care seek treatment only to be pursued by hospitals for the cost of medical care, plus attorney and debt collection fees. People have lost their homes, cars, savings, and years of wages to hospitals. Many of these people qualified for free or reduced-cost care but didn't receive it.
Maryland requires that the state's not-for-profit hospitals provide financial aid to those eligible, but such help is actually on the decline. National Nurses United's research found that Johns Hopkins Hospital collected most heavily on low-income, African American patients in the neighborhoods surrounding the hospital.
Full study of Maryland's medical lawsuit injustices titled "Preying on Patients" with county by county data: www.nationalnursesunited.org/preying-on-patients
THE SOLUTION:
Medical Debtors Protection Act H.B. 1081 and S.B. 873: Expose the need to protect low-income patients by reforming Maryland's epidemic of medical debt lawsuits.
Financial Assistance Policies and Bill Collections Act H.B. 1420 and S.B. 875: Expand financial assistance policies for hospitals.
WHO:
Marceline White, Maryland Consumer Rights Coalition
Delegate Lorig Charkoudian (D-20 Montgomery County)
Delegate Robbyn Lewis (D-46 Baltimore City)
Senator Brian Feldman (D-15 Montgomery County)
Kat Hyland, Hyland Law Firm, consumer attorney

Patients harmed by medical debt and other members of Coalition for a Humane Hopkins

Johns Hopkins Hospital nurse and doctor
About the Maryland Consumer Rights Coalition (MCRC)
The Maryland Consumer Rights Coalition (MCRC) is a statewide coalition of individuals and organizations that advances financial justice and economic inclusion for Maryland consumers through research, education, direct service, organizing, and advocacy. Our 8,500 supporters include consumer advocates, practitioners, and low-income and working families throughout Maryland. MCRC: The Voice for Maryland Consumers
For more information, contact Marceline White, executive director of MCRC at Marceline@marylandconsumers.org or 410-220-0494. Find MCRC on the web at www.marylandconsumers.org , on Facebook at facebook.com/mdconsumers, and on Twitter at twitter.com/mdconsumers
About National Nurses United
National Nurses United is the largest and fastest-growing union and professional association of registered nurses in the United States with more than 150,000 members nationwide, including thousands of Maryland residents. NNU plays a leadership role in safeguarding the health and safety of RNs and their patients and has won landmark legislation in the areas of staffing, safe patient handling, infectious disease, and workplace violence prevention. Find NNU at www.NationalNursesUnited.org, on Facebook at Facebook.com/nationalnurses, and on Twitter at Twitter.com/nationalnurses.